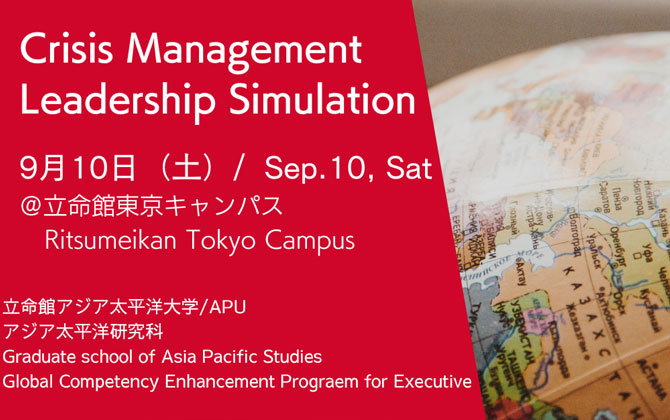 APU is a private university that opened in 2000 in Oita Prefecture, Beppu City. Since its inception, APU has accepted students from over 156 countries and regions and sent out over 20,000 graduates in Japan and overseas to the frontlines. The campus is a diverse environment where half the students and professors are internationals. Classes are conducted in both English and Japanese.
Putting forth the APU2030 Vision, we are promoting highly competitive education and research so "APU graduates possess the power to change our world."
Since 2013, APU has provided the Global Competency Enhancement Program (GCEP) for businesspeople in order to create global human resources.
This time, the Graduate School of Asia Pacific Studies will hold a 1-day international executive program at the Ritsumeikan Tokyo Campus for mid-career professionals who are aiming to become global executives. It will include simulation on policy making in the midst of an international crisis, which will be conducted in English. Skills such as information gathering, analysis, strategy planning, communication, negotiation, and teamwork will be tested within a limited time and in this simulated, English environment. This year's guest coordinator will be Kunihiko Miyake.
Abstract
Course Title
Crisis Management Leadership Workshop
Guest Coordinator
Kunihiko Miyake (Advisor to the Cabinet Secretariat, Chief Researcher at The Canon Institute for Global Studies, Visiting Professor at Ritsumeikan University)
Moderator
Sato Yoichiro(Dean and Professor of the College of Asia Pacific Studies at Ritsumeikan Asia Pacific University)
Course Outline
There will be a simulation on policy making in the midst of an international crisis, and discussion in English. Skills such as information gathering, analysis, strategy planning, communication, negotiation, and teamwork will be tested within a limited time in this simulated, English environment. It is a practical course for today's world.
Date and Time
Saturday, September 10, 2022 13:00~16:30
*From 16:30 to 17:00 there will be an information exchange event. Because we are planning a wine reception, we request an additional fee(3,000 yen)for those who choose to join.
Venue
Ritsumeikan Tokyo Campus Sapia Tower, 8th Floor,1-7-12 Marunouchi, Chiyoda-ku,Tokyo 100-0005
Course Fee
10,000 yen, Information Exchange Event 3,000 yen(optional)
Schedule
1.Presenting the issue(30 min)
Icebreaker
Situation Briefing
Explanation of tasks
2.Global Simulation(150 min)
National team process(Problem setting, research/sharing, and settlment of interests) 60 min
International consultation 30 min
Domestic/international renegotiation 30 min
Joint statement and press questions 30 min
3.Reflection Session(English) 30 min
Optional:Wine reception 30 min
Application
Transfer of tuition fees and information exchange meeting participation fees:

Please transfer the tuition fee and payment for the information exchange meeting to the following address by Monday, August 22. The transfer fee will be borne by the applicant.

Bank Name:SUMITOMO MITSUI BANKING CORPORATION
Bank Branch: OITA BRANCH
Account Holder Name:RITSUMEIKAN ASIA PACIFIC UNIVERSITY
RITSUMEIKAN TRUST
CHAIRPERSON OF THE BOARD OF TRUSTEES
Tomomi Morishima
Account Number: 1001647

Organizer
Ritsumeikan Asia Pacific University College of Asia Pacific Studies
Cooperation
Academy Hills
Contact
Office of Instuitutional Advancement gcep@apu.ac.jp
Moderator Profile
Professor Kunihiko Miyake
University of Tokyo
After joining the Ministry of Foreign Affairs, worked at the embassies of Iraq, Jordan, the United States, China, etc., and was in charge of Japan-US security at the North American Bureau
Advisor to the Cabinet Secretariat,
Chief Researcher at The Canon Institute for Global Studies,
Visiting Professor at Ritsumeikan University
Professor Yoichiro Sato (Ph.D)
Keio University
Master's, University of South Carolina
Ph.D., University of Hawaii
Ritsumeikan Asia Pacific University Professor
Fields: Politics, International Relations
Present, Dean