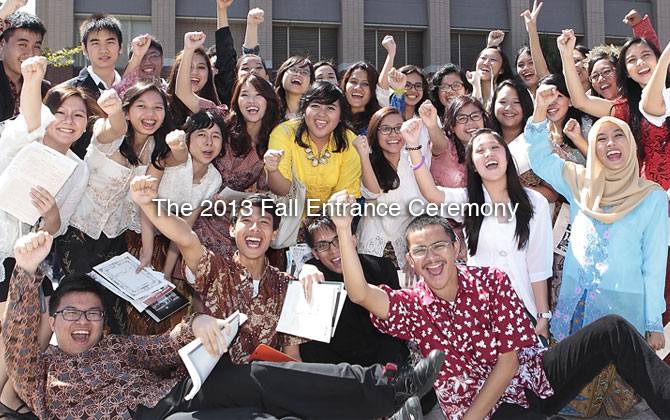 The start of an exciting new chapter

Ustream footage available
September 20, 2013. 10:30 – 12:40 (Japan time)
| | |
| --- | --- |
| 10:30 | Ceremony Begins |
| 10:31 | Singing of the Ritsumeikan Academy Song |
| 10:33 | Message from the President |
| 10:40 | Introduction of Guests and APU Officials |
| 10:48 | Congratulatory Speech by the Vice-Governor of Oita Prefecture |
| 10:52 | Congratulatory Speech by the Mayor of Beppu City |
| 10:53 | Message from Student Body Representative |
| 10:58 | Message from New Entrant Representative |
| 11:04 | Closing Remarks |
| 11:10 | Short Performances by Current Students |
With a 50-50 student body of Japanese and international students, APU has adopted a dual enrollment system that allows students to enroll in either the spring or fall. This system was introduced to accommodate for international academic calendars. On September 20, 2013, APU welcomed 581 new students at "The Fall 2013 Entrance Ceremony" held at the Millennium Hall, Ritsumeikan Asia Pacific University.

In order to ensure that parents and well-wishers around the world that could not attend the ceremony were able to enjoy the event, the ceremony was streamed live on the internet via Ustream. In addition to this world-wide audience, current students also attended the celebrations and delivered a range of performances to welcome our new students.

The event was a day of celebration to mark the beginning of our new students' lives in Beppu and, for many, in Japan.
The many warm words of celebration and support from family, friends and well-wishers ensured that the day was a fitting start to our new students' campus lives.

Since 2011 APU has been Ustreaming live footage of this and other events on the internet. Footage of the September 20 ceremony is now available. Photos taken during the ceremony are also available on the "FAFA" (For APU Students, From APU Students). These photos and images should help you to enjoy the ceremony even if you could not attend in person.