On Wednesday, June 4, 2014, thirteen APU international students were appointed as International Exchange Advisors to Saiki City at a Certificate Presentation Ceremony held at APU.
The newly appointed International Exchange Advisors will visit local primary and junior high schools in Saiki City several times during the course of the year, using games, songs and other activities to support international learning, introduce their culture, and help raise the children's communication skills. The ceremony was attended by the Director of the Saiki City Board of Education, Mr. BUNDO Takashi guests from the primary and junior high schools the APU student advisors will be visiting, as well as APU Vice President YAMAGAMI Susumu and other APU representatives.
Mr. BUNDO greeted the students with words of encouragement. "Today welcomes the 11th year that Saiki City has had this exchange with APU students. Being able to communicate in English is only going to get more and more important for our children. It is my hope that you will share stories of your family and homelands, your hopes and your dreams with the children of Saiki City. By doing so our children will encounter new values and gain a wider perspective on the world." Mr. BUNDO then presented each individual student with a certificate in recognition of successfully passing the rigorous selection process.
APU Vice President YAMAGAMI then delivered a short speech. "This exchange between APU and the City of Saiki, that sees several students being appointed as exchange advisors every year, is not only a meaningful experience for the students that will benefit their future, but also an initiative that is leaving very definite and positive results. APU students are amazing, highly motivated and eager individuals. I sincerely hope that APU and Saiki Cities will continue to deepen their exchange."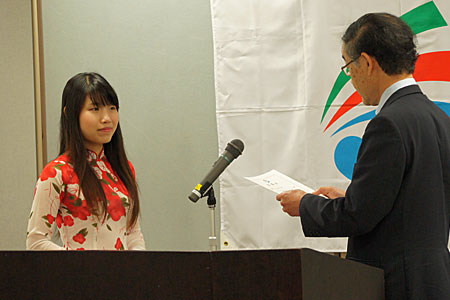 Each of the certificate recipients then introduced themselves to the representatives from Saiki City, thanking them and giving their aspirations for the program, including NGUYEN QUE ANH (College of International Management, 4th Year, Vietnam) who commented that "Through cultural exchange and teaching the children English I will do my very best to help the children become more internationally aware. I hope that wholehearted communication will let us understand and learn more about each other."
Representing Saiki City Schools, MR. KAWANO Shigeyuki, Principal of Kamae Primary School, then addressed the audience in English, "Located in the South of Oita Prefecture, Saiki City is famous for sushi, sashimi and its beautiful oceans. It takes about two hours from APU to Kamae Primary School by trains and taxi. I think that English is a very important language. The children are all very excited about meeting you."
113 APU international students have served as International Exchange Support Advisors and taken part in exchange projects with Saiki City.
The International Exchange Support Advisors for AY2014
| | | |
| --- | --- | --- |
| name | college / year | nationality |
| NGUYEN QUE ANH | College of International Management 4th year (APM4) | Socialist Republic of Viet Nam |
| TRUONG HOANG BICH CHAU | College of Asia Pacific Studies (APS3) | Socialist Republic of Viet Nam |
| NGUYEN Hoang Duy Phuong | APM 3 | Socialist Republic of Viet Nam |
| HUYNH Van Nha  | APM 2 | Socialist Republic of Viet Nam |
| Kingkeow Ponchanit | APM 3 | Kingdom of Thailand |
| SIHIRUNWONEG WARISA | APS 2 | Kingdom of Thailand |
| SIRIPAT SUPATEERAPONG | APS 1 | Kingdom of Thailand |
| HE Chengguang | APS 3 | People's Republic of China |
| HE Qianyu | APM 2 | People's Republic of China |
| SIROJIDDINOV Elyor | APM 2 | Republic of Uzbekistan |
| DOLIMOV Shohbozbek | APM 2 | Republic of Uzbekistan |
| Andrew Chee | APS 2 | Republic of Singapore |
| SHAKYA SUSHMITA  | APS 3 | Federal Democratic Republic of Nepal |