On December 15, 2014, Mr. David Pilling, the Asia editor of the Financial Times (FT), one of Britain's major newspapers, gave a lecture entitled "Bending Adversity: Japan and the Art of Survival" at APU.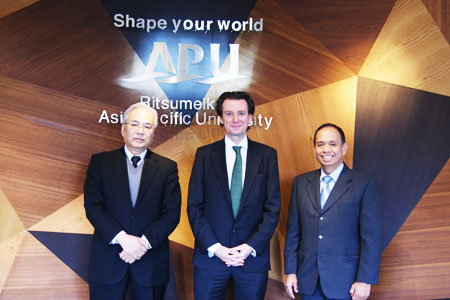 Mr. Pilling was Tokyo Bureau Chief for the FT from 2002 to 2008 and is currently the paper's Asia editor based in Hong Kong. In the lecture, Mr. Pilling talked about Japan from the perspectives of geopolitics, history and economy.
  Mr. Pilling stated that Japan is a nation that has consistently managed to change without being overcome by difficulties, citing the examples of the reconstruction after the Great East Japan Earthquake of 2011 and Ise Shrine, which has been repaired regularly for several centuries.

Regarding Japan's relationships, including territorial disputes, with neighboring countries, Mr. Pilling said that the issues cannot be solved by geopolitics alone, but also require consideration to be paid to the family histories of politicians. Namely, the fathers and grandfathers of the current political leaders in Japan, China and South Korea were high-ranking politician themselves, and their family histories have greatly influenced them.

After his lecture, students asked several questions about Japan's economic policies and what the country needs to do to promote its continued development.

Mr. Pilling recently wrote a book called Bending Adversity: Japan and the Art of Survival, the same title he used for this lecture, which talks about the resilience of Japan.