On Wednesday, February 3, 2016, the APU Confucius Institute held a Spring Festival party at the APU Cafeteria to promote cultural exchange between Japan and China. Around 100 people attended the event.
Lunar New Year, also known as the Spring Festival in China, is an important festival celebrated at the turn of the traditional lunar calendar not only in China, but also many other Asian countries.
During the event, traditional Chinese dishes and desserts, including twice-cooked pork and sesame balls, were served to the guests, who enjoyed a performance of the Lion Dance by Kagei Chinese Traditional Art Union while they dined. The faculty and students of the APU Confucius Institute also gave performances in Tai Chi (traditional Chinese shadow boxing) and erhu, a two-stringed musical instrument.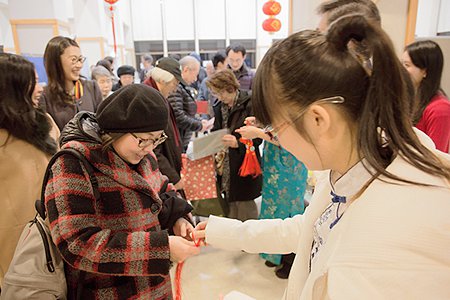 The event successfully facilitated cultural exchange and mutual understanding between China and Japan while affording the guests an enjoyable time and a sense of Chinese harmony.
Reporter, Student Press Assistant (SPA): MAO Yuhan (China)
UCHIYAMA Midori (Japan)