APU organizes annual summer school programs for high school students on campus. These programs encourage high school students to reflect on global communication and the coexistence of many cultures, and help them think about their future while experiencing APU's multicultural environment. This year, the university held two summer programs.
The "ACE (Academic and Cultural Experience)" program*1 for overseas high school students was held from Sunday, July 30 to Sunday, August 6, 2017, and attracted 30 participants from 13 countries and regions. The "APU Summer School – Spend Your High School Summer Intermingling with the World" program*2 for domestic high school students was held from Tuesday, August 1, to Saturday, August 5, 2017, and attracted 57 participants from around the country.
During the programs, participants received constant support from APU students who study in the university's multicultural environment. They also stayed at AP House, where they got to experience dormitory life.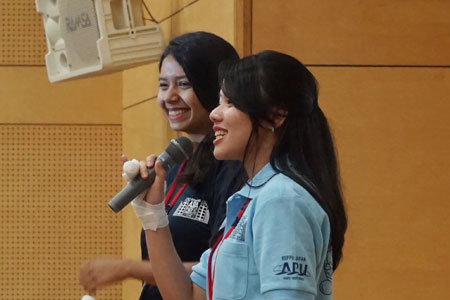 APU students supporting summer school participants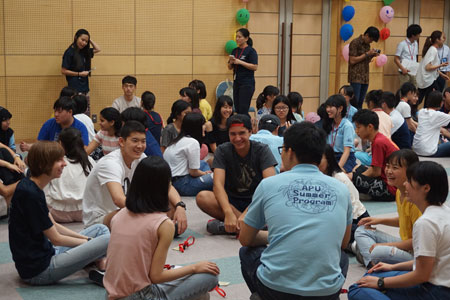 Japanese and foreign high school students discuss cultural differences
Some parts of the programs were held jointly, allowing participants to engage in intercultural exchange. On August 4, the Japanese and overseas high school students were divided into mixed teams as part of a game. These teams had to find their way to a destination in Beppu City based only on received instructions (i.e., without using a map). The Japanese high school students were required to decipher and follow English instructions while the overseas high school students had to ask questions to locals in Japanese with the assistance of their Japanese counterparts, and obtain relevant clues. The Japanese and overseas high school students took advantage of a rare opportunity for exchange and deepened international understanding while strolling around and experiencing the allure of Beppu City.
*1 ACE: The overseas high school students learned about Japan through a wide range of activities, such as taking Japanese language classes and Japanese culture lectures, taking part in a tea ceremony, practicing Japanese drums, wearing yukata, and experiencing a homestay in Usuki City, Oita Prefecture. They also exchanged opinions about diversity and the coexistence of many cultures with APU students, and engaged in exchange with Japanese high school students.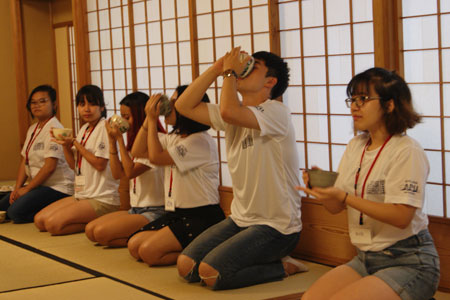 Foreign high school students experience a Japanese tea ceremony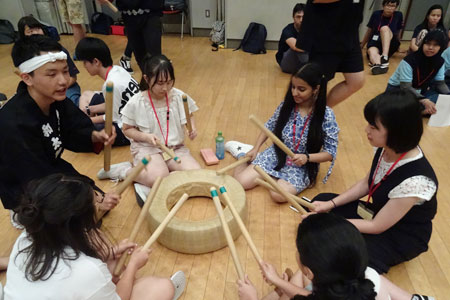 Students begin practicing taiko drumming by hitting a tire
This year ACE participants came from the United States, Iran, India, Indonesia, South Korea, Thailand, Taiwan, China, Nepal, Barbados, Bangladesh, Vietnam, and Malaysia, representing 13 countries and regions.
*2 APU Summer School – Spend Your High School Summer Intermingling with the World: In addition to taking classes to improve English language ability instructed by APU's native English-speaking faculty, the Japanese high school students took part in mock lectures at the College of International Management and the College of Asia Pacific Studies, informal gatherings with APU students with study-abroad experience, and a club activity in the form of the traditional Indonesian Saman Dance. On the final day, participants presented a summary of their experiences during the summer program in English, and received feedback from APU faculty and students.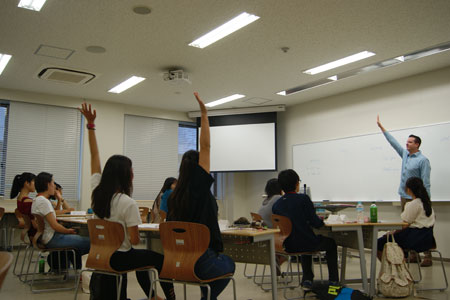 Japanese high school students in English class