On Wednesday, November 14, seven employees from five companies gave their final presentations as members of GCEP, the Global Competency Enhancement Program. The audience included 35 student supporters who worked on the program and human resource managers from the participants' companies. Each participant gave a 20-minute presentation of detailed proposals to address the globalization-related issues that their companies face. During the program, GCEP participants stay in the on-campus dormitory AP House and spend two months immersed in APU's multicultural environment. They used this experience and their improved English skills to give their presentations.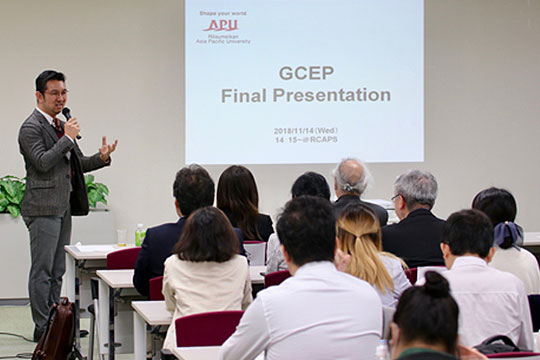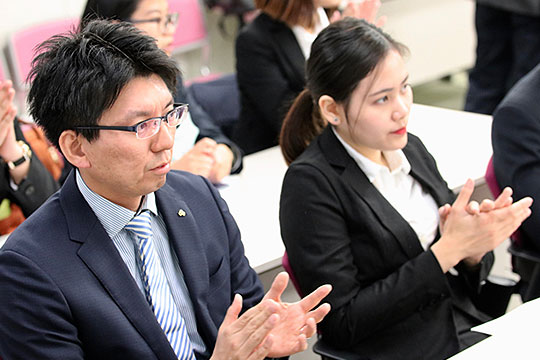 Seiya Matsukura, who works at Fukuoka-based Saibu Gas Co., Ltd, talked about his time on the program: "In the first week, I struggled because I realized that what I had learned previously wasn't going to work here, but it was a rewarding time because I was inspired daily by the students' advanced language proficiency and proactive attitudes. In today's world, where people from many different cultures and nationalities live together, I learned first-hand the importance of clearly communicating what you want to do, why you want to do it, and how you plan to do it if you want to motivate others to take action. I am grateful for this wonderful environment, my company, my office who agreed to let me attend this program, and my family who supports me."
Kotaro Morita, the manager of the Human Resources Department at Saibu Gas, attended the presentations. He explained why the company decided to send its employees to APU for GCEP by saying, "Our company is in the process of taking action to promote diversity, so we are trying to develop talented individuals who can respect, accept, and create diversity. APU, with its students from 89 countries and regions, is like a foreign country within Japan, so we would like to take advantage of its campus environment to help us produce people equipped with strong language proficiency and intercultural adaptability who can succeed both at home and overseas."
GCEP is a program that takes advantage of APU's multicultural and multilingual campus to provide training to employees from partner companies. Participants undergo training tailored to the needs of their respective companies while gaining the broad perspectives and international sensibilities required to live and work in a global society by communicating with a diverse array of students.
You can find more details about GCEP here.