The Japan Business Case Challenge (JBCC) 2018 was held on APU campus from November 30 to December 3. Patterned on case competitions*1 that form part of the curriculum at foreign business schools, JBCC, which is conducted in English, is a business case competition for undergraduate students from Japanese universities. Run by the JBBC Organizing Committee since 2015, JBCC aims to produce Japanese students who can use their participation in this competition as a stepping stone for competing in international case competitions.
12 teams participated this year: three teams from APU and nine teams from other Japanese universities. For the first time this year, a preliminary workshop and retreat was held for all participants from October 5 to 7. Taught by APU faculty, the workshop exposed participants to case studies in an effort ensure that everyone could enter the competition on a level playing field.
Around 250 spectators watched as students from 14 universities competed to present solutions for South Speak English Institute Inc., an English school with operations in the Philippines. The teams had to develop their presentations for this case within 18 hours. In the end, Global Woman, a mixed team of students from Akita International University and International Christian University, was declared the winner.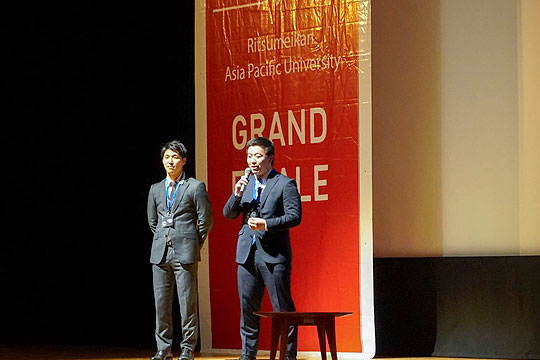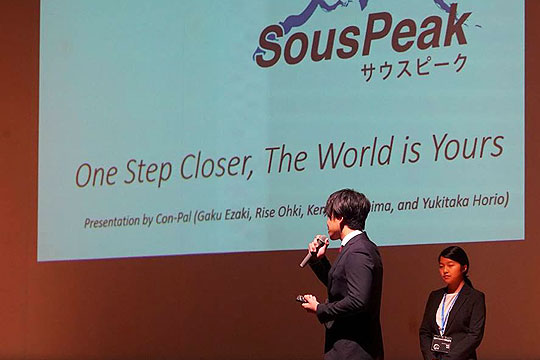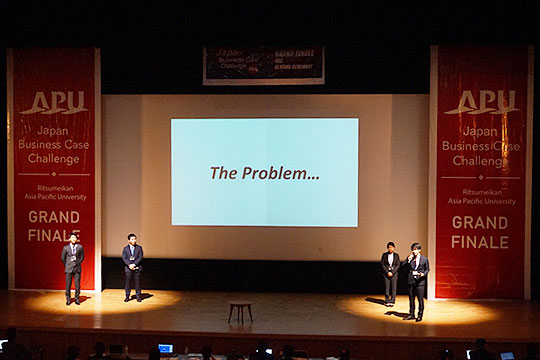 The competition was sponsored by RGF Professional Recruitment Japan, South Speak English Institute Inc., Japan Airlines Co., Ltd., TMC Inc., Chikaranomoto Holdings, Joyfull Co., Ltd., Sumitomo Mitsui Banking Corporation, the APU Alumni Association, and AI Inc.
JBCC2018 participating universities:
Akita International University, Hiroshima University, Hitotsubashi University, International Christian University, Keio University, Kyoto University, Nagoya Gakuin University, Ritsumeikan Asia Pacific University, Ritsumeikan University, Seikei University, Sophia University, Tokyo University of Agriculture, Tsuda University, Waseda University
What is a case competition?
Originally developed in the US, case competitions are competitive events in which teams from around the world are pitted against each other. The goal of these competitions are to strengthen practical thinking, team work, problem discovery, and other skills. The participants work on a case study provided by a sponsor company, and propose a solution to a specific management problem. The quality of these proposals and corresponding presentations is evaluated by a jury panel, which includes representatives of sponsor companies. Case competitions have varying rules, but the general practice is to have teams of four individuals tackle a specific problem within an allocated time frame (typically around 24 hours).