On Wednesday, May 12th, 2021, around 60 scholars participated in the third APLJ (APU Journal of Language Research) Symposium which was held online.
The Third APLJ Symposium began with an original presentation given by Associate Professor Christopher Haswell from Kyushu University and Lecturer Jonathan Schachter from Kyushu Sangyo University called "Lost in Citations." Their presentation illustrated the advantages of the podcast format by focusing on a series of interviews with the world's leading scholars of the English language.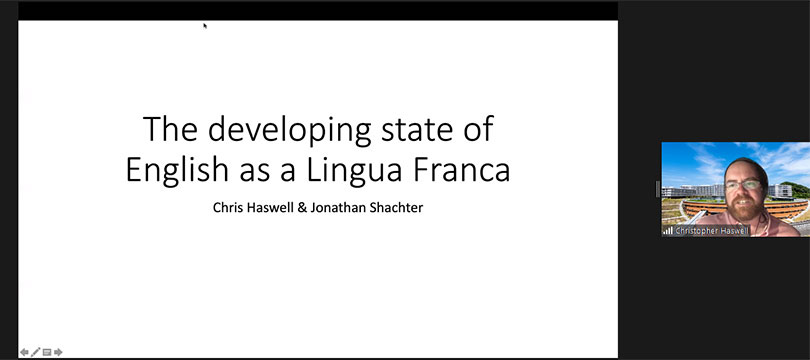 This was followed by Lecturer Eiichi Inada's presentation of an in-depth study of the factors which ultimately led one Chinese student of the Japanese language to steer away from the path of becoming a Japanese language teacher. This presentation raised many questions, especially about the influence of culture.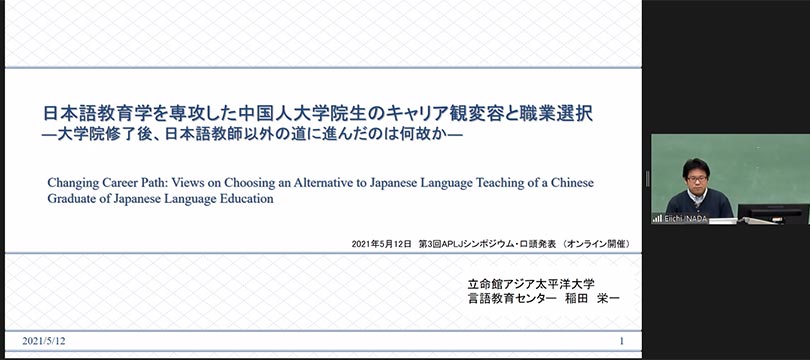 Language and culture was an overriding theme of the symposium, with the poster session offering presentations on a range of subjects including the following: the development of bilingual language learner literacies (Associate Professor Paul Sevigny and Lecturer Shoichi Manabe), the potential of Japanese language programs in the community (Associate Professor Tamiko Sumida, Lecturer Mariko Takao and Former Lecturer Yoshie Itai), an initiative to foster stronger connections among international and domestic students (Lecturer Ben Rentler and Lecturer Will Tiley), and the utilization of bottom-up stories in the Chinese classroom as a means of promoting a third place of cultural interaction (Lecturer Hung Yu Ting).
These and other posters concerned with aspects of language and language skills were enthusiastically attended and generated a typically lively exchange of ideas. Such exchanges among the different languages and cultures represented by APU's language faculty are an important feature of the APLJ symposiums.
The fourth APLJ Symposium is planned for 2022, when a return to an on-campus event might be possible. The Center for Language Education will continue hosting symposiums and will work toward the development of both language instruction and cultural research on APU's uniquely multicultural campus.