During the Fall 2021 semester, APU and Oita Bank offered an endowed lecture series entitled "Community Development Using Oita's Heritage." A total of 19 students, including 18 APU students and 1 student from Nihon Bunri University, attended the course under the instruction of Asia Pacific Studies Professor Takayuki Kubo, and part-time lecturers, hiromi Kamiashi and Joji Naramoto,.
With the theme of how to utilize "Oita Heritage" (tangible and intangible local resources selected by Oita Godo Shimbun for their 120th anniversary commemorative project) for regional tourism, the lectures and fieldwork provided by the cooperation and support of Oita Bank challenged students to consider the shape of a sustainable region. The lectures of this course were also open online to the general public.
The Oita Bank Regional Creation Department conducted lectures and field studies in cooperation with researchers of history, nature, and cultural properties of the Kunisaki Peninsula, Bungoono, and the Nakatsu / Yabakei area. Students deepened their knowledge by visiting the areas learned about in the classroom and shared what they learned in public presentations held at Horuto Hall in Oita City.
Presentation themes
Let's grow Showa no machi and tourism for a better future!
Bungo's National Treasure: A tour of lights that color the four seasons
Vacation in Yabakei
Proposals for spreading the charm of Yabakei: D'you know the real Yabakei?
Relief sculptures of Buddha tour for grampa and grandma
This is the 5th cooperative lecture that APU and Oita Godo Shinbun have offered since starting Oita Heritage in the fall of 2017. In 2021, APU signed a new agreement with Oita Bank and held this endowed course. APU hopes that this initiative will continue to contribute to the sustainable development of the Oita region.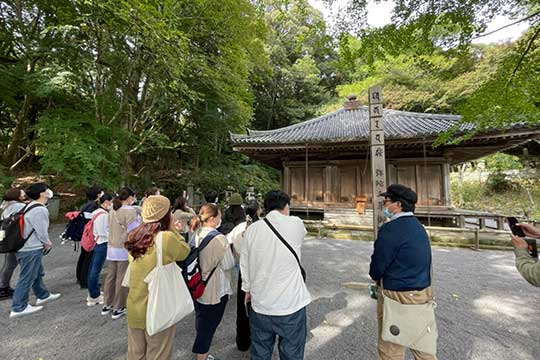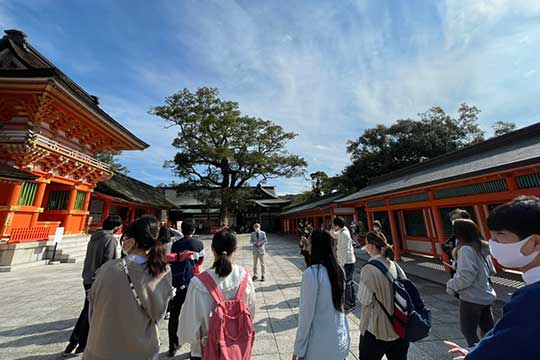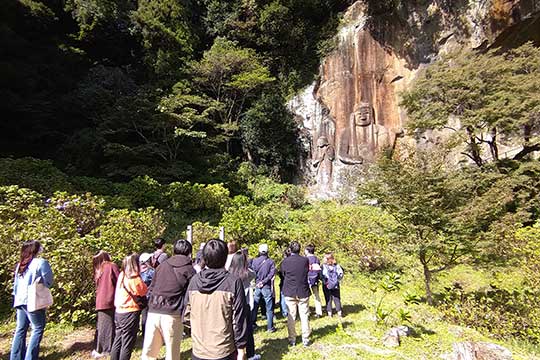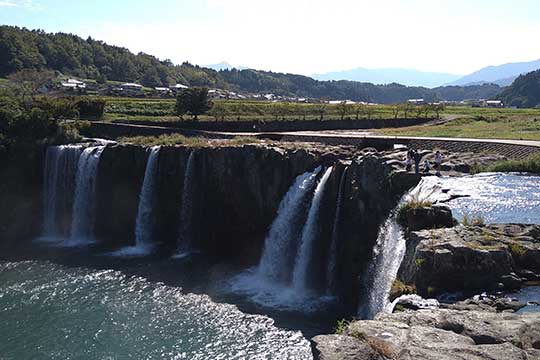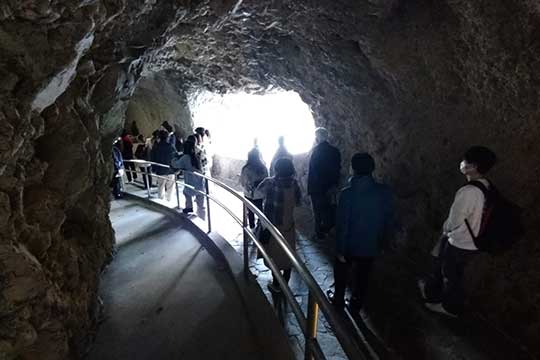 Comment from Professor Kubo
This year, it is in great part due to the support of Oita Bank that we were able to complete this course successfully. Not only did Oita Bank arrange the buses that would allow students to experience "Oita Heritage," but provided them tours by local experts as well as public lecturers. Moreover, the Oita Bank Regional Creation Department also took the podium during the lectures in addition to providing students with guidance on their fieldwork. During this fieldwork, the good people of Bungotakada City Tourism Development Co., Ltd, Bungoono City Hall, Joy Village Ltd., Nakatsu History Museum, Hiratatei Promotion Council, and Keiseki Garden taught us in depth about their local areas. And those who attended the final presentations both online and in person provided students invaluable feedback to their proposals. We would like to take this opportunity to thank all of you.
Most who study at Oita Prefecture's universities, including our students, move to more metropolitan areas after graduating. Before that, I would like more students to acquire knowledge about "Oita Heritage" and acquire the skills to promote local resources. If we continue such efforts, we are confident that the students of this course will put "Oita Heritage" to practical use in regional development. We sincerely ask for the continued support of Oita Bank and the citizens of Oita Prefecture.