Agriculture experience in the Yabakei Valley
On July 6, 2019, we tended a rice paddy in the lush Yabakei Valley in Nakatsu, Oita.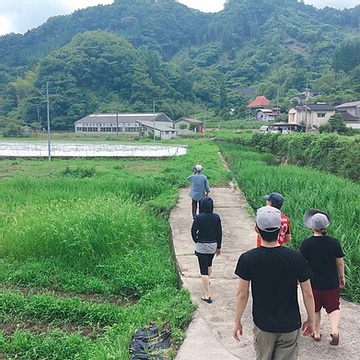 Now retired from working at the Shimogo Agricultural Cooperative, Mr. SUEKUNI has had a long and deep connection with the APU Co-Op. In fact, this is the 17th year Mr. Suekuni has collaborated with the APU Co-op on a joint agriculture experience project.
Mr. Suekuni has been collaborating with students from many other universities around Kyushu on such agriculture experiences for many years. This inspired the APU Co-Op to request the same for APU students, and so the current project began. APU has become the only university to maintain this relationship for 17 years.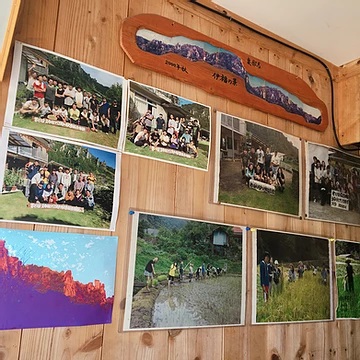 The wall is decorated with pictures of APU students' experiences over the many years.
In July, the farm work included maintaining the rice plants planted by APU students this past June. The plants were growing straight and tall, and their roots were deep and strong. Mr. Suekuni does not use pesticides, therefore many weeds throughout the paddy needed pulling. This is an important step for achieving quicker, stronger growth and delicious rice.
Also, walking directly on the mud in the rice paddy releases gas bubbles trapped below the surface and mixes it into the mud. It may look like just weeding, but we learned that there is a big difference in plant growth between paddies that have been weeded and ones that have not. We felt the soft mud under our feet and pulled out weeds while carefully avoiding stepping on rice plants.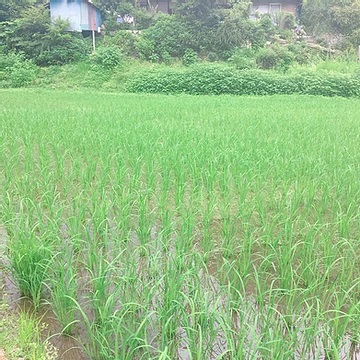 Next, we weeded around the Japanese yams. Japanese yams are very susceptible to stress, so the environment must be properly maintained to ensure they grow well. We carefully pulled out the weeds at the very base of the roots of the yams.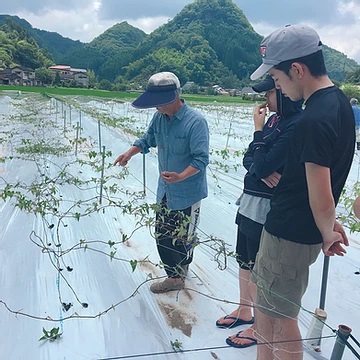 While working, we learned about fertilizers and pesticides. Cheap vegetables you can get anywhere that have been grown with imported pesticides and fertilizers tend to be bitter and have a stronger smell. The Shimogo Agricultural Cooperative uses an organic fully matured compost fertilizer that is created with great care over a long time. After farming, we had a BBQ and could taste the delicious flavor and sweetness of the vegetables for ourselves, learning firsthand just how much they differ from what we usually eat.
Dedication to making good food
Mr. Suekuni, who is dedicated to good farming and hopes that everyone can experience truly delicious farmed goods, also told us his own story.
He started off working in Osaka. Mr. Suekuni was launched into his journey into the world of agriculture the moment he ate absolutely delicious roast pork in Kobe. Unlike the roast pork seasoned with artificial flavoring that you find at the grocery store, the delicious natural flavor of this roast pork really stood out.
At the age of 30, Mr. Suekuni started working at the Shimogo Agricultural Cooperative where he focused his energy on researching great-tasting roast pork. In Europe, animal farming for meat requires national certification and at least three years of training. Mr. Suekuni realized that Japan was behind in this respect, and asked a roast pork expert from Germany to train him. It cost a total of 4 million yen, but thanks to that training Mr. Suekuni succeeded in creating the roast pork which would become the current foundation of the Shimogo Agricultural Cooperative. It is used in all sorts of products including sausages, franks, and gyoza dumplings.
Mr. Suekuni did not only master roast pork. When creating the Shimogo Agricultural Cooperative Café au Lait, Mr. Suekuni had difficulty extracting coffee liquid and its taste was not up to his standard. That is why he built his own coffee extractor. The amazing taste of the rich milk that is their local specialty complimenting their very own extracted coffee liquid cannot be imagined until you try it for yourself.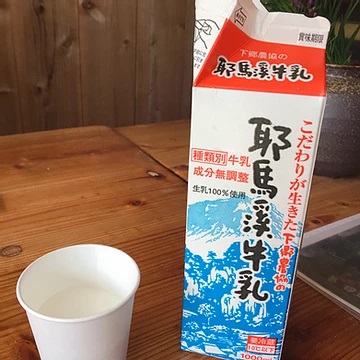 It was also Mr. Suekuni who built connections and negotiated with major shopping malls and grocery stores in Oita Prefecture to stock Shimogo Agricultural Cooperative products and foods. You can find these products in some shopping malls and grocery stores, so keep your eye out for them.
In addition to all this, the Shimogo Agricultural Cooperative invites people from about 60 organizations around the country every year for agriculture experiences. Mr. Suekuni also visited Chugoku and Shikoku, considered the forefront of agriculture, to try delicious food and learn about the farming and livestock industry. He then traveled around the country, giving numerous classes about food.
Mr. Suekuni spoke passionately about his sentiment towards pork, for him the starting point of his entire journey, saying that he wants to someday dig a tunnel in a mountain in the Yabakei Valley and use the surrounding environment to make naturally aged and salt-cured ham. He may have retired from the Shimogo Agricultural Cooperative, but Mr. Suekuni still has passionate dreams and goals.
"Be a pioneer"
Mr. Suekuni has given lectures around Japan about finding the best season for delicious food and using his unique farming techniques. It is easy to see that he feels a strong sense of responsibility towards the food we eat and strongly wishes for everyone to learn what truly delicious food is. Mr. Suekuni, who has continued to change people's ideas about food, says this: "Don't do what everyone else is doing; be a pioneer."
The joint agriculture experience project with the APU Co-Op includes rice planting in June, weeding in July, harvesting in the fall, and pounding the harvested rice into cakes at the APU Cafeteria in January. Students who want to participate can apply at the APU Co-Op. Enjoy the clean air of the Yabakei Valley, the stunning landscape, truly delicious meat and vegetables, and conversation with Mr. Suekuni and neighboring farmers. You may just find new surprises and discoveries.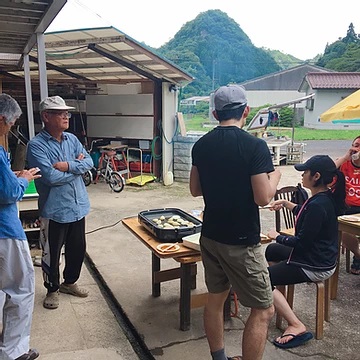 Nothing is as delicious as a BBQ after a hard sweat.
Nagisa Sakamoto
My major is International Relations and I am taking Media Journalism seminar. I like Kannawa area Onsen and I decided to live there. I am living well with my motor bike by going to anywhere in Beppu. I will upload new article about my favorite spot. Enjoy your Beppu life after current situation will be improved.