Restrictions on overseas travel have been eased and the sky is opening. And many APU students are interested in the exchange student program.
From the spring of 2022, face-to-face exchanges will gradually resume worldwide, and APU students will be able to choose from more than 150 exchange destinations in 45 countries and regions.
I had an interview with 4th year APM student, Lee Hak-soo, who has experience as an exchange student in Poland and is currently working as an exchange student staff SEA.
1. Please explain briefly about the student exchange program
First, the exchange is largely divided into two parts: domestic exchange and international exchange. You can go to Akita International University or Ritsumeikan University in Kyoto for domestic exchange. Now I'll tell you more about the overseas exchange program.
In the case of international exchange, you can go to any country except your own. You must always apply to the overseas exchange program a year in advance. For example, if you want to apply for the exchange in the fall semester of 2023, you must apply in the fall of 2022. In addition, the period of exchange must be at least one semester and up to one year at the longest
As for longer term programs, a double degree program is also available. In four years, students can earn a degree from the destination university in addition to their APU degree, and will study for two years at each university. In principle, only first semester students are eligible to apply, so students should research the double degree program prior to enrollment.
For more application information: https://www.apu.ac.jp/abroad/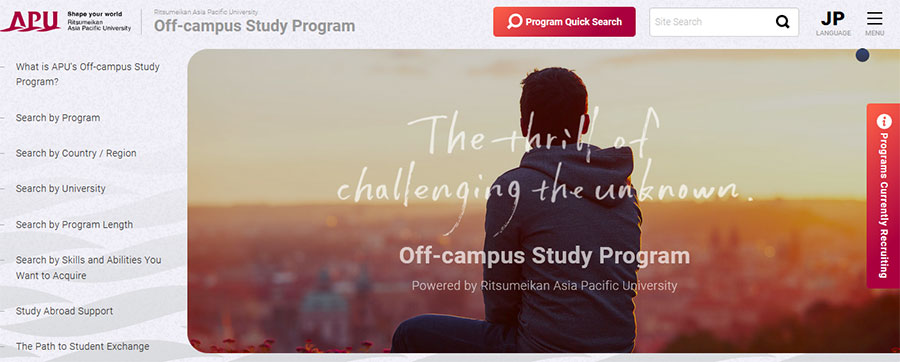 2. Tell me how you recruit overseas exchange students
Recruitment is held twice a year in the spring and fall semesters. The first recruitment for the spring semester starts in April and the first recruitment for the fall semester starts in October. Besides, the recruitment period is divided into two rounds. The primary application period is the main application period, and the secondary application period is for universities that did not receive any applications in the primary application period. Therefore, popular universities usually stop accepting applications after the first round. Usually, applications for famous universities are completed during the first round of recruitment. Recruitment is conducted through a survey link on the w an off-campus Study Program website. Go to this site and click International Exchange in the program to proceed with the online application. The online application allows you to select three schools of your choice and answer why you would like to join an exchange program.
3. What are the application requirements for overseas exchange students?
First of all, you can apply from the second semester of the first year because you need a GPA score to apply for exchange. The GPA requirement varies from school to school. However, the higher the GPA, the more advantageous it is, so please be diligent in your regular APU studies! In the case of overseas schools, submitting English proficiency test scores is mandatory, so submitting TOEFL IBT or IELTS scores is essential. The TOEFL IBT score should be more than 80 on average and the IELTS score should be at least 5.5. However, each university requires different English test scores, so please check the website. In the case of interviews, they can bbe important if the school you are applying for is popular, but most of the interviews are just about the procedures before the exchange, so don't worry too much. Requirements for each school can be found at the link below.
https://www.apu.ac.jp/abroad/search-length/
Here, you can check the application requirements of each school by clicking on the period of exchange you want to apply for.
Only the very popular universities will conduct interviews after the application screening process.
4. What advice do you want to give to those who are thinking about going on an overseas exchange student program?
There are two tips I'd like to give students who want to go on an exchange student program. First, before you go abroad, make sure you get enough credits at APU. In some cases, credits are not classified in detail at the university where you will go as an exchange student. For example, when converting credits after the exchange student program, there are cases where fewer credits are recognized than expected, so please fill up enough credits at APU. Second, I recommend that you prepare well before going. Even if you could study at a good university with an excellent GPA, you can waste your time if you don't prepare anything until you become an exchange student. To spend a more meaningful exchange program, it is highly recommended that you plan your goals and detail a plan before the exchange program.
5. SEA Operation Guide
The SEA is responsible for supporting students who want to go on an overseas exchange program and for introducing various exchange schools that have signed agreements with APU. In addition, we also support students who are scheduled to be exchanged and answer questions related to the overseas exchange program. SEA mainly conducts school introductions and counseling through Instagram. Please note that exchange-related consultations are mainly conducted within the recruitment period of the exchange school. Also, you can book a consultation through the link on our Instagram profile. The location of the information booth changes every time, so please check the site above. In addition, SEA is also holding an event called study abroad cafe for exchange counseling and to introduce various schools. We often post various notices on Instagram, so please follow our account!
SEA Instagram page: https://www.instagram.com/apu.sea/
(From Mingyu) Learning new things in an unfamiliar environment can be quite challenging. However, as you adapt to the new environment, you will have a more valuable experience. Don't hesitate to study abroad. There are people who can help you even if you're in trouble, such as SEA. I'm certain you'll have a valuable experience studying abroad!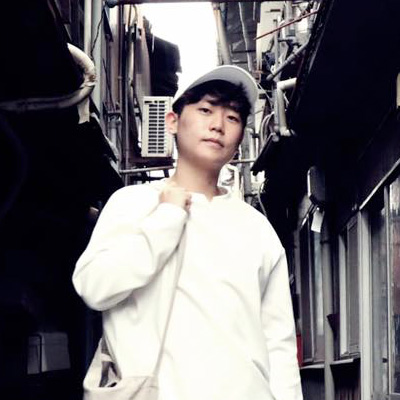 Mingyu SEO
Hello, I'm Mingyu Seo, an APM 3rd year student from South Korea. I love watching movies or dramas on Netflix and am interested in taking pictures. I am really happy to share my experience with you and I will try to do my best to convey interesting information and updates on APU as a SPA member.