The "Selected Project" initiative was begun at APU in AY2017 to support extracurricular student activities. Among the activity types, "B-Type (Project B)" activities have a strong awareness of "cultivating cross-cultural receptivity and collaborative skills for taking an active role in the international community," "utilization of class-room learning," and "contributing to society." Unique plans based on student ideas are selected for Project B.
On this occasion, we spoke with Ms. ARAKAWA Megumi from "youth_since2019," one of the groups selected for Project B this year. (in a cutting-edge online interview held via Zoom)
【What is youth_since2019 ?】
Youth_since2019 is a "Student Creative Boutique" which produces diverse creative content and ideas. Its vision is to "make our experiences and time as students richer and more interesting."
Congratulations on your selection for Project B. I believe you applied to Project B saying that you would "create a web drama that conveys the charm of Beppu through TOJI." Could you elaborate on that for us?
Thank you. The hot spring cure of old called "toji" introduced by Beppu involves "staying for a lengthy period of time at a hot spring resort and undergoing hot spring treatment for a specific disease." Youth_since2019 came up with a new concept for the hot spring cure. Modern youth lead a more convenient life than in the past, but precisely because they live in this kind of society there are times when they get tired and feel they are suffocating. We believe that amidst the busy-ness of life and having little time for yourself or meeting up with friends, a hot spring cure is equivalent to escaping and "enjoying something beyond the everyday, where you are surrounded by bountiful nature and delicious food and can soak your body in warm hot springs and saké" in Beppu. Also, by adding "through enjoying luxurious escape from the everyday, youth prepare to yet again achieve great things" to our definition, we created our new "TOJI."
That's amazing. Listening to what you've said, I am wondering about where your ideas came from.
That's a good question. We all got together and created the proposal... In the beginning we felt we wanted a story that would hit home with young people and be easy to identify with through creating a web drama that would convey the appeal of Beppu. We decided on a story of hope for the script, in which young people from the same generation would overcome their ups and downs. Viewers would identify with it by seeing themselves in the story. We wanted viewers to be filled with a feeling of giving life their all and to be energized to do so. However, since we wanted to do more to convey the charm of Beppu and give something back, we thought about how we could sum up Beppu's appeal in a single word. Thinking about how nature and food and hot springs and people and atmosphere all are precious, when we were searching for a word, "hot spring cure" is what we found. Thinking to define it with a modern twist, we came up with the word "TOJI" for what we were thinking.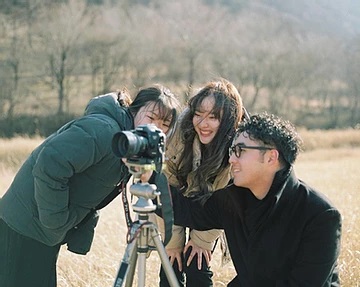 You've communicated your enthusiasm for youth_since2019, but why is it that you participated in Project B?
We decide what to do on the basis of our vision of "making our student years and experiences richer and more interesting." As part of this, we strongly wanted to take on a project that could make a big impact. We also wanted to give something back to Beppu, which gives so much to us all the time. There was also the fact that we would receive the University's support if we were selected. This meant we would be able to extend our impact beyond where we could reach through our own efforts alone, and that many people would support us after learning about us. It would also connect to our original goal of having youth from across Japan get to know and come to Beppu. It was with all this in mind that we participated in Project B.
It must have been a really tough journey, but did you get anything out of going through this project and the screenings?
As for what we've gotten out of it thus far, the screening presentation was streamed live and APU students and the adults around us watched it, commented, and gave us their support. Furthermore, many people worked with us when we were filming the video we used in our presentation. We believe that the cooperation and support we received from these people was the basis for our success in all the screenings. We were really moved by the recognition we received, and all the messages sent to us. We hope to continue receiving everyone's support and that together we will be able to complete our project.
Please tell us about the stage that your project has progressed to now.
Currently we're working out content related to the story, such as the script and etcetera. Filming won't start until September at the earliest. We're watching the effects of the coronavirus, so there's a possibility that filming will be postponed. However, because we believe the first planning stages will be very important, we are making our plans without any compromises there.
You and your fellow members are all "busy youths," and I've even heard that you have activities in addition to Project B! Is that really true?
Yes, it is. In addition to Project B, we are accepting outside commissions. Running the Swee'Pea Instagram account is something we are doing as youth insiders as well.
I enjoy looking at the Swee'Pea magazine every week!
We started in May and our followers have been growing at a rate of about 100 per month, so we are at the point of wanting to increase our recognition even further from here on out. We want to deliver even more wonderful information to even more people!
How are you approaching future activities?
We are planning three activities for the future: accepting outside commissions, carrying on Project B as an activity springing from within Youth, and Instagram. We think that if we can work with Project B on Instagram in the future, our influence and power to reach people will increase, so we are preparing for that.
If you have anything you would like to say, or a message for the readers of this article, please - go ahead.
First, in regards to the Swee'Pea SNS we are running, on this account we post content from a student perspective that can make your time as a student richer and more interesting, such as food, travel, music, lifestyle, and so on. We update that content on Instagram every Friday at 21:00. Please be sure to take a look!
Swee'Pea account https://www.instagram.com/sweepea.mag/
In addition, we've also set up a Youth account on Instagram. Together with our official website, we plan to post information about the members of Youth and the details of our activities here whenever there is something (scheduled for August), so we'd love it if you would check it out!
youth_since2019 instagram account https://www.instagram.com/youth_since2019/
youth_since2019 website https://youthsince2019.pb.studio
If everything goes according to schedule with the Project B web drama, we plan to share it via YouTube starting in October. Before then, the plan is to release the teaser in August (scheduled) and then release the trailer in September (scheduled). We hope you find them worth the wait!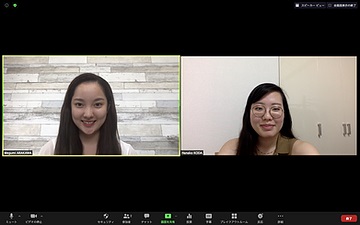 As one of your fans, I'll be keeping an eye out! I'm looking forward to it. Thank you for today!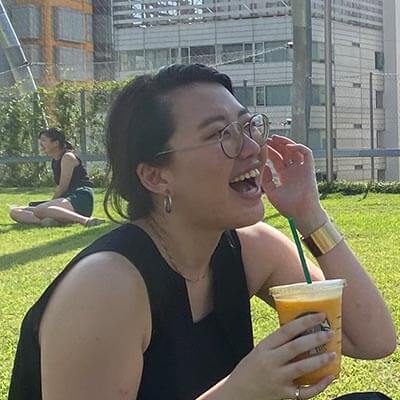 Hanako Koda
I'm Hanako Koda, a lover of good food, and my goal for 2021 is to find my favorite cafe in Beppu! I'm writing this in a rambling, frank style... I'd love to hear what you think of it, and if you can tell me what's good in Beppu, I'd love to hear from you.
(Graduated in spring 2022)