I would like to congratulate all new students on their admission to APU. My name is Mao Murakami. I am a third-year student at the College of International Management (APM). As many events and activities continue to be cancelled or postponed in an effort to counter the spread of COVID-19 infections, APU has decided to hold its entrance ceremony online this year. I feel it is incredibly unfortunate that the ceremony cannot be held in person. In the following article, I describe my own experiences when entering APU and offer some suggestions on how to enjoy APU online. I hope this will help you take your first steps toward a fulfilling journey at APU.
Dear new students -"ZOOM" into some good habits I have gained while attending online classes
[To New APU Students] A letter to new first-year APU students written from a TA's perspective
Preparation for entrance ceremony
I had packed my suitcases, hopped on a flight, and arrived in Beppu. I already felt as if I had ventured into a different world. On my first day at AP House, I attended a floor event, where I was able to converse with people of different nationalities and make new friends. My life at AP House was off to a great start! Since that day, my floormates and I have gone out from morning till evening, cooked together, and engaged in fun conversations on a daily basis, and I have been able to gradually deepened my friendships as a result.
My entrance ceremony took place on a beautiful sunny day. While I had prepared for entrance ceremonies up to high school with family members, I was already living at AP House on the day of APU's entrance ceremony, and I recall getting ready for the ceremony with my floormates, which was a completely new experience for me. I discusses matters such as suitable hairstyle and makeup with people who had only been my friends for a short while, and we worked harmoniously together to get ready for the entrance ceremony.
Entrance ceremony held at B-con Plaza
Every year, APU holds its entrance and graduation ceremonies at the B-Con Plaza in Beppu. I hopped on a bus with my floormates, all of whom I had only met a short while ago, and we had a blast taking pictures as we made our way to the venue.
The thing that left the greatest impression on me—even more so than the entrance ceremony itself— was the presence of an incredibly large number of senior students who were recruiting members for student groups and circles at B-con Plaza. After the ceremony finished, the entire venue was packed with new and senior students. I felt I had walked into a new year's bargain sale. The senior students had put up signboards that displayed the name of their groups, and were calling out to the new students from all directions, creating a lively atmosphere. Another memory I have is that, by some stroke of luck, I was able to meet an acquaintance I had at APU in the midst of this somewhat chaotic environment. One thing I took away from my entrance ceremony experience was that senior students are also eager to meet new students.
I am one of the Student PR Assistants (SPAs) of "For APU Students, From APU Students" (FAFA). Our goal is to present the broad appeal of APU. We operate a website that introduces the various clubs, circles, and groups at APU, so please check it out.
FAFA Clubs&Circles in APU https://en.apu-online.jp/
Checking the welcome events and making friends
I feel that groupwork in online classes by itself provides fewer opportunities for international exchange than regular classes. I enjoy interacting with circle members and friends through online drinking parties. I believe various groups will hold welcome events at the start of the semester, so I would encourage everyone to participate in these and make friends. In addition to checking out the FAFA website, I recommend following the official APU social media accounts of the Student Office.
APU Student Activities Facebook
https://www.facebook.com/APU-Student-Activities-329542217755329/
APU Student Activities Instagram:apu.student
https://www.instagram.com/apu.student/
Traditional national attire
One of the unique appeals of the APU entrance ceremony is the fact that you get to see students dressed in a large variety of traditional national attire.
The new students who participated in my ceremony in kimonos (which are only worn on rare occasions today) were stunning, even from a Japanese perspective. I also recall new students showing up in the traditional national attire of South Korea, Nepal, China, Thailand, India, and various African countries. I remember this left a tremendous impression on me. The new students truly looked dazzling in a diverse assortment of colorful national dresses accompanied by gorgeous ornaments.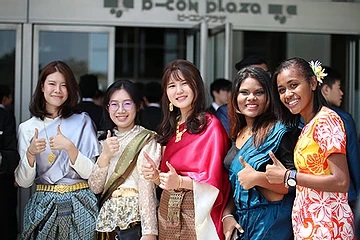 Even though this year's welcome events are held online, I encourage everyone to wear either traditional national. I believe this could serve as conversation starter and allow you to make friends. Incidentally, APU students also get a chance to try out different varieties of national attire at the APU Cafeteria during each Multicultural Week. During one of the Thai Weeks, I tried on a traditional Thai dress with some friends and took some pictures, another precious memory.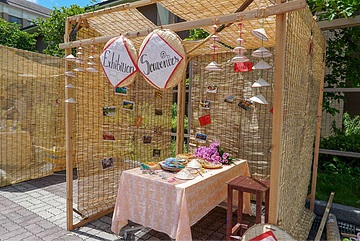 As the prevailing challenging conditions are likely to continue in the foreseeable future, APU will offer a combination of on-campus and online classes in the fall semester. However, I strongly believe that the pandemic will eventually run its course, and that the day will come when you can fully experience the wonderful APU lifestyle. Let's support each other as we look forward to meeting new friends, new teachers, and a new environment.
Mao Murakami
Hello! I'm Mao from Japan. I love to listen western music such as EDM and POP so much! Especially LANY, Chelsea Cutler and Gryffin are my favourite artists. Currently I practice acoustic guitar on free time because its sound makes me feel very comfortable. I've studying for job hunting and enjoying reading newspapers to get updated economic information these days since I started to subscribe to newspapers for it.