Hello, everyone! The SPAs would like to wish you all the best at the start of the new semester. Have you all settled into your online/blended classes?
【Purpose of this article】
There are many students who are worried about job hunting. This time, SPAs interviewed President Deguchi and held a discussion on how to cope with the situation during the coronavirus pandemic based on students' concerns about their careers prospects. We hope this will encourage you to engage in job placement activities at APU and eventually lead you to your next career amid these difficult times.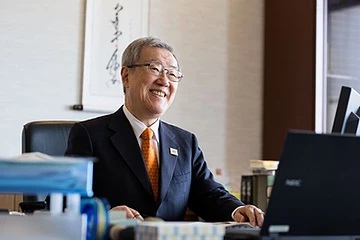 SPA: It has been a long time, President Deguchi. First of all, we would like to thank you very much for giving us this opportunity.
People in the world are struggling with the chaos caused by the spread of COVID-19, and the only viable option for keeping yourself safe from this virus is to self-quarantine. What advantages do you think this ongoing pandemic present?
Pres. Deguchi: The way we live has changed drastically. One advantage I can see is that we can improve our IT literacy. For example, although I had never used Zoom before, I'm now using it to conduct this interview with you.
SPA: I agree. People of all generations have started to use digital platforms. Due to the pandemic, companies have had to adapt to remote working, or working from home, and the IT sector is making rapid progress.
Pres. Deguchi: From now on, I believe we can boost labor productivity by using IT efficiently. Recently, according to statistics, labor productivity in Japan is at its lowest point since 1970 among the G7. As we progress further, there is a possibility for improving labor productivity by eliminating complimentary overtime work and adapting to remote work.
SPA: It seems that students will also be expected to improve their IT skills. What kind of abilities and skills do companies want students to have?
Pres. Deguchi: Simply put, companies want students who can think.
No one could have predicted that a virus like this would hit the world. When you have a problem, you can ask your boss about precedents, but what do you think you should do in the case of an unpredictable situation like this pandemic?
SPA: We have to solve it by ourselves.
Pres. Deguchi: Exactly! When unexpected problems happen, you need to be able to think flexibly. Companies value people with the power to confront a situation with figures, facts, and logic.
SPA: This unexpected pandemic has had an impact on the job-hunting market. Should students aspire toward their dreams even if their dream industry has been damaged by the pandemic? Or would it be wiser to shift one's sites to a company that the public deems more in demand?
Pres. Deguchi: I do not believe students should give up on their dreams.
It is crucial to divide your approach into two separate phases: how to coexist with the coronavirus now and what to do you after the coronavirus subsides. You can predict that normal life will resume once a vaccine is developed. In the meantime, living with the coronavirus means people will avoid going out and traveling overseas and will continue maintaining social distance. On the other hand, what will the post-coronavirus era look like? A "new normal" will be ushered in. You may be able to imagine a town regaining its vibrancy as soon as the pandemic subsides, and people returning to pursuing leisure activities, events, and travel.
SPA: I understand.
Pres. Deguchi: In terms of the job market, this means companies will start recruiting again. The important point that I want you all to keep in mind is that you must look at the long term. Even if unexpected things happen, you will get the chance to achieve your goal when the time comes. You can keep preparing yourself with an eye on your goal. For example, you can work on building up your language skills. Look at APU's alumni. They change companies to aim higher or find another path.
SPA: I can see that job changes are becoming normal nowadays.
Pres. Deguchi: This change can have an influence, but don't let it take you over. Keep striving to realize your dreams. Don't throw your dreams away. You must have the will to keep pursuing your goals and dreams.
SPA: For students with long-term aspirations, it is also important to choose the right company. What are the characteristics of companies that can survive the pandemic?
Pres. Deguchi: To survive, I think company needs a cheerful and positive attitude. Imagine you are facing a critical situation. You don't want to work with people who condescend and complain, but with people who have the energy and say "I'll pay you back twice!"
I think the companies with potential are those companies that can turn a difficult situation into an opportunity.
SPA: I see. In order to secure a position at such a company, it seems it would be better to have good thinking skills. How can we learn to improve our thinking skills at APU?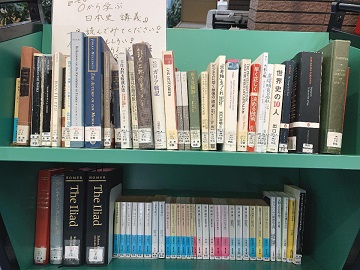 Pres. Deguchi: First, read books. The process for acquiring thinking skills is the same as learning to cook. You can start by mimicking someone else's patterns of thinking and ideas. A books describes the author's thinking process, so you can relive that process by reading that book. I recommend Discourse on the Method by René Descartes.
SPA: Here are the President's other recommended books!
Pres. Deguchi: There is another method that applies particularly to APU students. Try to have a discussion with people from all over the world. You may come to realize you and your friends have different ideas, or that domestic and international student have different ideas. I know people like to have online parties nowadays, so why not try having this kind of discussion the next time you hold one of these parties?
SPA: We really should try this!
Pres. Deguchi: The current situation is not just limited to APU and Japan. The whole world is currently facing the same situation. During this pandemic, we will continue switching back and forth between staying at home and the so-called "new normal." The only way to cope with this situation is to utilize online tools, so let's do our best until the pandemic is over.
SPA: Up until last semester, you often visited the cafeteria and, because of that, we as students had a chance to interact and communicate with you. How can students communicate with you now?
Pres. Deguchi: Please use online platforms (Twitter, Zoom, Facebook, email etc.) anytime to contact me. Currently, the situation makes it difficult for all students to come to campus, but everything will be back to normal as soon as the pandemic is over, so don't worry. If you want to have a discussion with me, or if you have some questions on your mind, please feel free to contact me even on the weekend. My email address is written on my books, so please contact me anytime.
SPA: Thank you so much for giving us this great opportunity to have a discussion. The world is changing rapidly, and I think people are more aware of the simple fact that the future is unpredictable. Being APU students, we will keep brushing up our skills by making use of our own experiences as we pursue our career plans.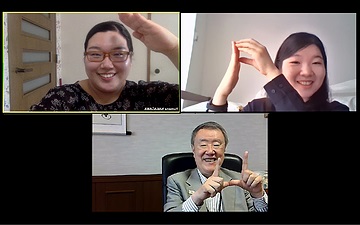 "APU pose!"
Times are hard and changing rapidly, but we hope students can change the way they see the world, and in turn, broaden their career horizons.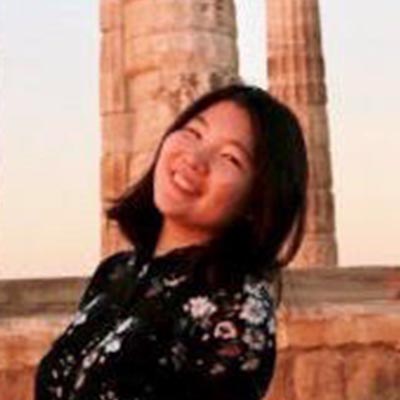 Maasa Furumori
Hello, I'm Maasa from Japan. I was born and raised in Nara, and lived in the states for 2 and a half years during my highschool. I spend my weekend to watch movies, go to onsen, and do some outdoor activities. Climbing mt.Yufu in 2019 was one of my favorite outdoor activities I did in Oita.My next challenge is to make it to the top of mt. Kuju. As a member of SPA, we would like to spread more fun information from diversified standpoints so please check out SPA's Blog !