Long time, no see. My name is KODA Hanako, and I am a third-year student. With the fall semester upon us, life is busy again. Every fall we send out useful information for students who are thinking of applying for an exchange program.
1. What are APU's student exchange programs like?
At APU, you can gain a study abroad-like experience just by being on the multicultural campus, but APU also offers a wide range of exchange programs. Students can apply for exchange twice a year, in the spring or in the fall, and every year many students head out into the world on a variety of exchange programs. You can study at one of APU's 141 partner schools in 42 countries and regions (as of January 2020), and these student exchange programs are some of the most popular overseas programs that APU offers. APU ranks among the top universities in Japan in terms of the breadth of program content offered as well as study abroad options in non-English speaking countries. For the record, I joined an exchange program last year and studied in Canada. In Canada alone, APU has eight partner schools, so it was really hard for me to choose just one!
Information on APU's student exchange programs
https://www.apu.ac.jp/academic/page/content0105.html/?c=17
Canada's natural beauty is boundless, and it is home to many lakes! The lake in this photo is actually man-made.
2. Having trouble making a decision?
If you've read this far, it is clear that you're interested in studying abroad. But with so many options, some of you may find it hard to choose which school to go to. To be honest, the lineup is so impressive that you might feel like a kid in a candy store, and that's why it's so hard to choose.
If this sounds like you, then you should talk to an SEA.
SEA stands for Student Exchange Advisor. As the name implies, SEAs provide advice to students who want to study abroad.
SEAs primarily engage in the following three activities:
① Providing support and advice to students thinking about exchange and students preparing to go on exchange.
② Providing support and advice for applications.
③ Holding events to encourage students to apply for exchange and to help students prepare for departure.
If you are thinking about going on exchange, you may have heard about SEAs but, sadly, they are not very well-known compared to other student groups. (I am also a member and I am doing everything I can to boost our name recognition!)
Today, I'd like to introduce two projects the SEAs are doing especially f[JH1] or those of you reading this article.
First, we run advising booths which are open twice a week. If you have any questions or concerns, or if you would like to talk to someone about studying abroad, our booths offer a private space where you can speak freely. Actually, I consulted with an SEA too. The host university which the SEA went to sounded so interesting, I ended up going there myself!
Consultations are now being offered online, so please feel free to sign up for a session any time. We're looking forward to seeing you!
In Canada, they take pumpkin carving to the next level. I enjoyed how everyone pulled out all the stops for events like Halloween.
Second, we hold Study Abroad Cafe events twice a month. For each Study Abroad Cafe event, we invite different presenters, including older students who've returned from study abroad, to speak about a different topic. Are you interested in study abroad? Even if you are only slightly interested, you can stop by and get some useful information. The atmosphere at Study Abroad Cafe is relaxed, so we hope you will stop by and enjoy some refreshments while you listen to the speakers. I also talk about my study abroad experience at this event, so be sure to join us!
Click here for more information on SEA activities.
https://apusea.wixsite.com/website
3. One final note
Many students study abroad for a variety of reasons, so even if you go to the same university as someone else, your experience will be completely different. Planning a study abroad experience from scratch is not easy, and you will have doubts. Don't worry though — this is something that everyone goes through. Remember: You are not alone. We are here to help you. When I was lost about what I should do, I went to see an SEA, and talking to them helped me to decide to go on exchange. Everyone has different motivations, but I am certain you can find a study abroad destination that is right for you.
I always loved the ocean, but studying abroad turned me into a mountain fan! I love Mother Nature!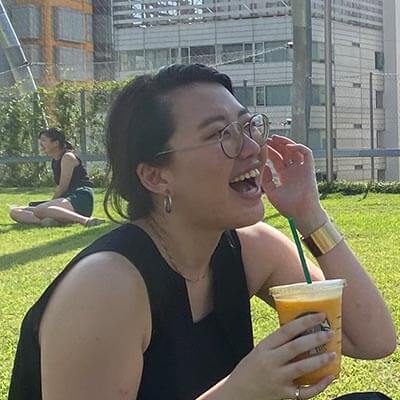 Hanako Koda
I'm Hanako Koda, a lover of good food, and my goal for 2021 is to find my favorite cafe in Beppu! I'm writing this in a rambling, frank style... I'd love to hear what you think of it, and if you can tell me what's good in Beppu, I'd love to hear from you.
(Graduated in spring 2022)