It's the year 2021. Please stay tuned to SPA's blog this year!
Although I looked forward to taking trips with my friends during the quarter breaks (QB) every year, we couldn't go on any trips last year, so I would like to look back on a trip I took in 2019, and momentarily enjoy the fun that I had. I came up with the title "Cherished Trip," which will make you feel like you are overseas. I am sure that APU students will sympathize with me.
1. Three Key Points Also Mentioned by the President
Do you know the words repeatedly mentioned by our President DEGUCHI Haruaki?
"People, books, and travel" are the three key points in our lives for improving productivity and producing new output. As mentioned by the President, I am realizing that my mind and body is fulfilled every day, just by meeting people, reading books, and going places. Particularly, when I went to Thailand last year with my friend during the QB, my mind and body were truly fulfilled, even my stomach, so I would like to share some of my fulfillment with you.
★Interview with the President about traveling can be accessed here(Articles in Japanese language only)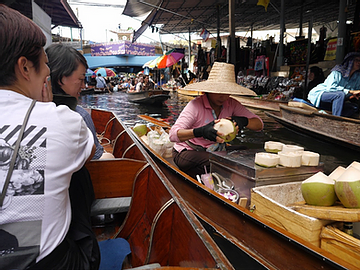 The floating markets are very typical, but they are still fun! I recommend the coconuts!
2. Main Focus on Eating
Although I love to travel, looking back, I always travel for eating what I want to eat. The purpose for traveling to Thailand in 2019 was also to eat authentic Thai food. (This is because I had a part-time job at a Thai restaurant!) When I eat traditional food of a country, I can taste the culture and atmosphere, which makes me like that country even more. This is the real pleasure of traveling. Particularly, trying various specialties is the best for me.
Just enjoying the food, adds extra fun to traveling!
3. Anything that Happens Turns out to be a Funny Story
Although trouble usually happens on trips, we had trouble during our trip. This happened when a Tuk-Tuk driver tried to charge us an extraordinary fare. When we wanted to cross the river on a public boat, the Tuk-Tuk driver generously offered to take us to the pier. We got on the Tuk-Tuk because he said it was free, but he took us to a pier for a special boat. We almost got on a boat with a fare of about 400 times more than a public boat. Since the fare was exorbitantly expensive, we ran away quickly saying "we're going to eat lunch."
Moreover, we had an exciting trip, like the time we almost missed the bus when we were buying umbrellas because it started raining while we were waiting at a bus stop, and repeatedly took round trips on the same river because we didn't know how to change boats. Such happenings can become funny stories, or even a wonderful travel story just because I was with a friend, so I believe that it is important to have friends.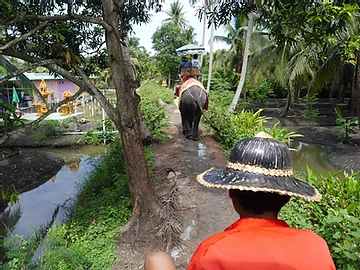 Riding on an elephant for the first time made me feel like Aladdin, but it rocked a lot!
4. For My Next Trip
Although I have been writing about my trip to Thailand to this point, my feeling that "I love to travel" and "I want to travel" escalated more and more while I was writing. However, the world is now not in a condition where people can travel safely. It is a waste of time to keep thinking about not being able to travel, so I would like to use this period to search for my next trip. My imagination and delusions swell steadily because we are in a period where we cannot travel. This is why I think I can make sufficient plans for my next trip! Each time I travel I make a travel guidebook, and the next time I will make even better guidebook. In order to determine my next travel destination, I would like everyone to tell me about your travel stories! Particularly, I would like to hear about the troubles you have experienced during your trips.
It is impressive to see many Buddhist monks and animals in the temples of Thailand. Everyone is relaxing.
Check out the online travel below while staying at home! (Language: Japanese only)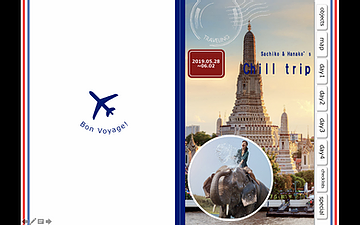 This is a travel guidebook of Thailand that I created!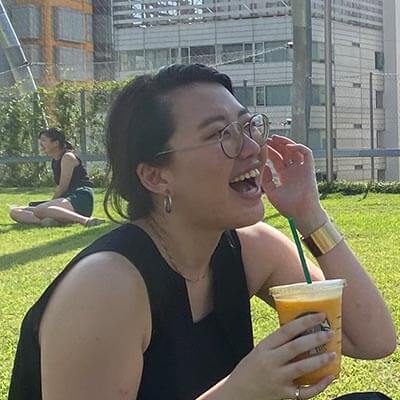 Hanako Koda
I'm Hanako Koda, a lover of good food, and my goal for 2021 is to find my favorite cafe in Beppu! I'm writing this in a rambling, frank style... I'd love to hear what you think of it, and if you can tell me what's good in Beppu, I'd love to hear from you.
(Graduated in spring 2022)