Hello! This time SPA spoke with Ms. Furukawa Hikari (APU 3rd Year Student), representative of "Amairo shohten (Shop)," which is called a "supermarket without prices."
First of all, what is "Amairo Shohten (shop)"?
Amairo shohten is a community-based supermarket that Ms. Furukawa, who was a member of the APU Startup Program, proposed with the intent of simultaneously solving the two social issues of food loss and poverty.
Among the characteristics of Amairo Shohten, first is the fact that there are no price tags.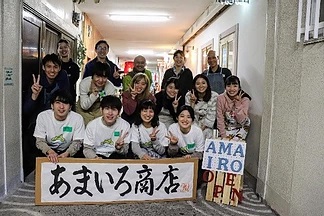 Amairo Shohten's Mission
1. To simultaneously solve food loss and poverty
2. To increase the number of people familiar with these two issues
3. To create a place where people who want to make the world a better place can take action
The origin of the name "Amairo Shohten" is based on the kanji characters for "heavenly blue1" (天 (ama) 色 (iro)), like the color of the summer sky in the image. They wanted to create a place that reflected the message that just as the sky in the image is limitless, so there are unlimited possibilities for them all.
Starting Up Amairo Shohten and the Mechanism Used by OZ Harvest
It all started when Ms. Furukawa was a 3rd-year student in high school: she saw a program on TV that turned her attention to poverty in Japan.
On the one hand, food products are being thrown away, while on the other hand there are people with nothing to eat. Feeling the strong conflict between the simultaneous existence of these two issues, she thought how this conflict could be solved if these excess items could be brought to meet the need in places where there wasn't enough.
The concept for Amairo Shohten was also greatly impacted by Oz Harvest Market, an Australian food rescue organization that opened in April 2017 as a "Supermarket to Save Wasted Food."
"I thought this mechanism could also work in the area where I live." Ms. Furukawa said.
The idea behind Amairo Shohten is close to that of the Oz Harvest Market. Supermarkets collect food items that would otherwise become food loss, such as unsold vegetables and bread close to its expiration date, and anyone can have them. Since there aren't any price tags, there aren't any rules, either. People decide the prices for the food themselves based on their own values. For those who are needy, products are free; for those with money, they can purchase the items.
Amairo Shohten's greatest objectives are to help those facing poverty and to be a place that conveys to many people, including the community, the fact that these social issues exist close to us.
Ms. Furukawa wholeheartedly became involved in the APU Startup Program after it was established in July 2018. She attended a variety of briefing sessions and events, including the APU Startup Program Report Session held in Tokyo in June of the following year, and shared her ideas in front of others. She also attracted attention as a finalist for Oita's Startup Woman Award, the "ONE BEPPU DREAM AWARD 2020."
A great deal of preparation and practice was essential for realizing her project concept. We asked Ms. Furukawa what sort of preparations she made specifically.
"In the Startup Program a faculty member called a 'mentor' was assigned to me, and we talked together in detail about what I needed to do to realize my idea. In my case, since first the most important thing was getting a lot of people to know of my idea, I came up with a presentation and learned how to look for businesses to support me."
Also, looking back on her participation in briefing sessions:
"The first opportunity for giving my presentation was at the Startup Program briefing session for 2nd-butch students (June 2019). I received a lot of positive feedback, and I was able to gain contacts with businesses and members of the community. I experienced the importance of properly organizing what I wanted to say in my head and then dealing with it," she said.
"First Installment of the Supermarket Without Prices" (November 2019)
For its first installment, Amairo Shohten opened for a limited time in November 2020. Food products that would otherwise have been destroyed and surplus vegetables from family gardens lined the shop windows. Approximately 260 individuals of all ages stopped by.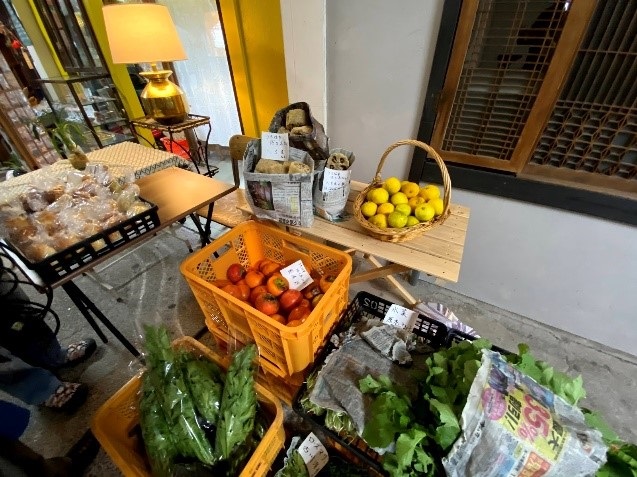 Fruits and vegetables spread about by the basketful. A wealth of variety, including flower seedlings and bread.
Since we overlapped with the timing of the potato harvest exactly, there were those who said, "we have extra, please, take what you want."
We collected about 30 different types of food items, about 90% of which were vegetables. Another characteristic was that many farmers provided agricultural products such as those that could be harvested at that time and those that had been thinned out.
We asked about the things she felt had been difficult in trying to accomplish the first installment.
"Some people simply came hoping it would be cheap because things were free. I felt it was difficult to deliver the true substance of the shop, which was educating them on the current situation around food loss. That day there were about 20 staff involved. I hoped that each of them would understand our purpose and communicate that to our customers. I am devising a delivery method and want to make good use of it next time to further turn people's attention to this issue." Ms.Furukawa said.
"I most want to deliver this food to those who are in need. However, if I narrow my target, then it will end up becoming a food distribution event, so I also need to convey this to those who are interested in contributing to society."
Involvement with Local People
Nine members, including Ms. Furukawa, are each proactively connecting with local people. Even indirectly, they are getting to know the farmers, and they are helping with the farming work and talking about their approach to society's problems.
Ms. Furukawa said, "Our goal is to raise awareness of social issues and have people get to know them from various perspectives, not be stuck seeing them in only one way."
"I believe that there are a variety of approaches to social issues. I want to see the issue awareness held by each of Amairo Shohten's members put into practice using their own approach. For example, one member said they want to convey the importance of food to children through hands-on agricultural experiences. When the children who participate grow up, they can then also tell their children, and then a virtuous cycle will be born. I hope that in the future Amairo Shohten will be able to provide a platform for putting that into practice."
As I listened to Ms. Furukawa, I felt that students who are earnestly confronting social issues, working hand in hand, would form a large circle and spread their social awareness beyond generations.
Finally, a message from Ms. Furukawa
I want to convey to many people that the solution to social issues is not "it would be nice if someone would do something," but rather, the approach that "I can do that, too!" For example, as regards food loss, when you go to an all-you-can-eat place, take only what you can eat and then eat that without leaving any leftovers. When you buy milk, if people who always finish it within 3-4 days took a carton from the front rather than from the back, in this way, through making small changes in our everyday life, I believe we can solve these issues.
Further, if there are any students who think they want to join the Startup Program and try entrepreneurship, please do give it a try!
*Information*
"Second Installment! Amairo Shohten - the Supermarket without Prices -" to Open
Dates & Times
February 20 (Sat), February 27 (Sat), March 6 (Sat)
<Scheduled for 13:00–16:00>
Location
Horibun Rental Space (Obata Clock Shop)
<27-22 Higashi-machi, Kamegawa, Beppu>
6 minutes walk from Kamegawa Station.
We are seeking staff to participate on the dates for the shop!
To the official Amairo ShohtenFacebook page
To the Official Amairo ShohtenInstagram page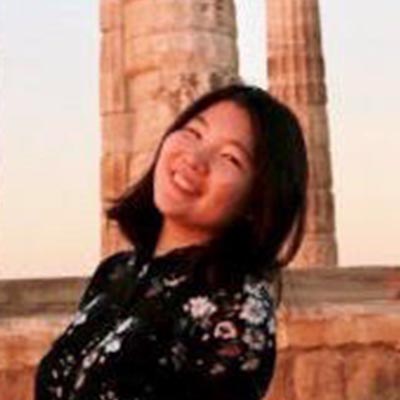 Maasa Furumori
Hello, I'm Maasa from Japan. I was born and raised in Nara, and lived in the states for 2 and a half years during my highschool. I spend my weekend to watch movies, go to onsen, and do some outdoor activities. Climbing mt.Yufu in 2019 was one of my favorite outdoor activities I did in Oita.My next challenge is to make it to the top of mt. Kuju. As a member of SPA, we would like to spread more fun information from diversified standpoints so please check out SPA's Blog !