For this interview, we spoke to Yuriko Ezumi, a second-year APS student who is a member and one of the hosts of the Kaiwa Podcast.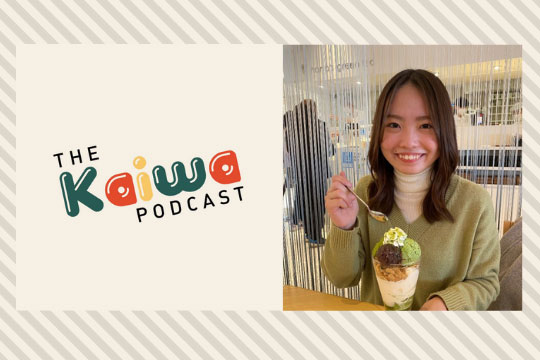 What is the Kaiwa Podcast?
The Kaiwa Podcast is a bilingual podcast* run by a group of eight international students (from Liberia, Indonesia, South Korea, Nepal, and Vietnam) and three domestic students to (1) encourage students to share their opinions, (2) inspire as many listeners as possible, and (3) energize the APU community through conversation. The podcast is run by four teams—hosting, editing, graphic design, and public relations. Each episode features interviews and discussions with guests, including representatives of student clubs, on a variety of topics like facilitation skills, the Women's Liberation Movement, and much more. Anyone, including members of the general public, can enjoy this podcast.
* Podcasts are audio broadcasts streamed online so anyone can listen to them anywhere. The programs remain available even after they have been streamed.
You can listen to the Kaiwa Podcast here: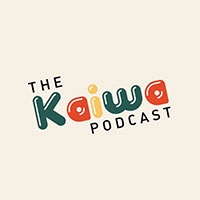 ―Why did you decide to enroll at APU?
I studied abroad in Australia during my second year of high school, and there I realized how fun it can be to communicate in English. When I came back to Japan, I started wondering how I could further improve my English proficiency. When it came time to think about going to university, I decided to enroll at APU because I could live and learn in a multinational environment like Australia. I also wanted to expand my possibilities while gaining inspiration from people of the same age with different ways of thinking.
―What led you to start the podcast?
I've always been interested in interviewing, and I wanted to try it for myself. Around that time is when I met Dorcas, one of the podcast members, on a language exchange program. We met to chat several times a week, and we soon found out that we both like to talk. That's when she asked me if I wanted to do a podcast with her. I thought this would be a good chance for both of us to do something we like, so we started this podcast.
Also, when President Deguchi appeared on The Last Lecture on NHK, he said, "I've only been able to come this far thanks to the people I have met." This stuck with me and made me want to value my connections with people more. So, when someone invited me to do something, I thought I should cherish the opportunity and take action. That is another reason why I started the podcast.
―What has it been like since you started your podcast?
When we started, it was less of a club activity and more of hobby, but as time went on, we got a lot more serious and started acting like the other clubs. When it was the three of us running the podcast, there were many times when we failed to understand each other, even when we were speaking the same language due to our different communication styles. But by holding weekly meetings, we came to really enjoy talking to each other and started to talk about things other than the podcast. What's more, I enjoyed coming up with questions on my own and conducting the interviews. The interviews are really fun because they expose me to new values, and that boosts my motivation. Nothing makes me happier than when my friends tell me they listened to the podcast and when our episodes are showcased on the official APU Instagram account. It is a rewarding feeling. I didn't start the podcast so people would praise me, but it does make me happy when people show an interest and talk to me about the show. It makes me want to work harder and make an even better podcast.
―How do you plan to continue your podcast going forward?
I would like to conduct interviews that dig deeper into the lives of APU students. When we do an episode with someone who is chasing a dream, it is really exciting, and it is also motivational for our listeners. And there are a lot of people like that at APU. We want to build up a library of episodes of about amazing people like this, and I hope more people come to know about our podcast.
―What kind of person do you want to be?
I want to be a person full of love, and I want to be able to act based on my own code while cherishing my relationships with people. Specifically, I would like to create a place where people who need a community can congregate and be helped. I hope we can all be happy together.
―Finally, can you offer a few words of advice to current and prospective APU students?
When I joined APU, I was amazed by the older students who were always trying new and different things, and that made me think I wanted to be the same way. Let's challenge each other and grow together to make APU an even more exciting place!
Also, if you are thinking of coming to APU, it is important to dedicate yourself to your interests while you are still in high school, but it is important to foray into other fields as well. Meet all kinds of people, talk to them, get a sense of their values, broaden your mind, and try your hand at many different things!
Check out the Kaiwa Podcast Instagram page here!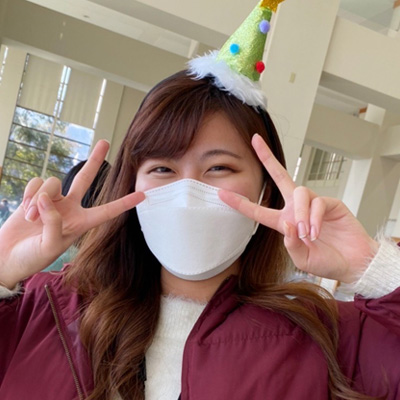 Manari Shimamura
Hello!I'm Manari Shimamura, a 3rd year APS student. My hobbies include many kinds of things, such as trying delicious food, travel, Netflix, and music.
This year, I will send out fun and useful articles about APU to our readers from my study abroad destination!