How are you spending your summer vacation? It was indeed quite an eventful semester. A big round of applause should be given to APU for ensuring that we had a safe and smooth semester in this ever-challenging pandemic. For everyone like me, the summer holiday is an opportunity to unwind, reflect, and plan for the coming semester. Two years into my studies here at APU, I have discovered that traveling around Beppu is the best way to carry out this process.
The COVID-19 pandemic remains persistent with no clear end in sight. It is still not advisable to carry out inter-prefectural travel, which means that those bucket list destinations we all have must remain on hold to ensure everyone`s safety. Looking at the brighter side of things, it is an opportunity we have been presented to explore more than 2000 onsen which are in and around Beppu. Beppu is a renowned onsen city, and arguably, the onsen capital of Japan. This means that you will have plenty to explore.
While the idea of exploring Beppu Onsen might sound exciting, the vast numbers of onsen available to explore in Beppu might leave one undecided and confused as to where to start from. To help you overcome this problem, I will take you through my recent onsen adventure.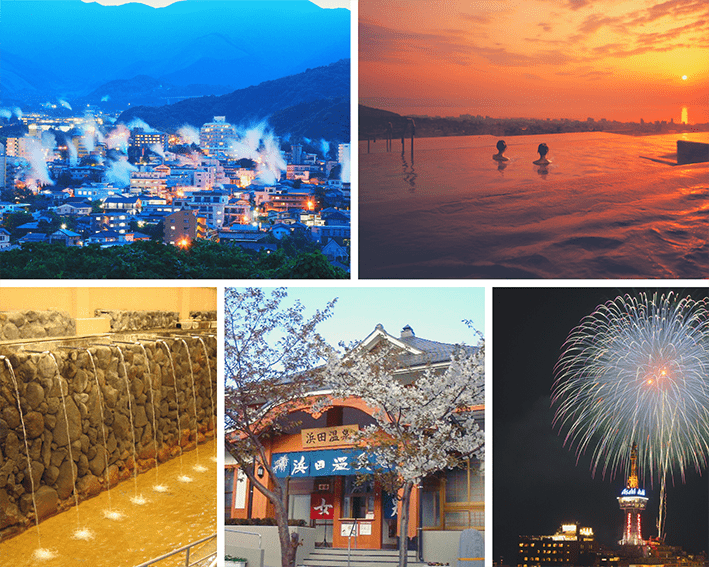 Hotel Housenkaku Onsen (Kitahama erea)
Located two buildings next to the iconic Beppu Tower, Hotel Housenkaku Onsen is easily accessible to the public. From the bus stop, it took me less than 2 minutes to get to the reception desk of the hotel. Upon arrival, I made the payment formalities and was provided with a complimentary towel. The hotel staff typified true Japanese hospitality; they were friendly and welcoming. Despite that the directions to the second floor of the hotel were clearly illustrated, they had the courtesy to escort me to the onsen. It was during midweek, and I soon discovered that I had the whole onsen to myself, a rare opportunity which meant that I had the opportunity to fully explore the various onsen baths on offer.
I quickly undressed and took a cold shower before entering the first onsen pool. To maintain a high level of hygiene, it is important to understand that it is a general rule applicable to all onsen around Japan to first wash your body before entering. It is also important to note that other unspoken onsen rules do exists. For example, one cannot enter most onsen with a swimsuit. To foster friendship with locals and prevent cultural clashes, foreigners need to observe these rules.
I discovered that Hotel Housenkaku's onsen was divided into two sections, the indoor and the outdoor section. The indoor section featured a large hot tub made from vintage wood. The steaming hot water from the tub filled the whole room with mist, which created a surreal atmosphere. The mixture of the trickling water, mystic atmosphere, and quiet surroundings gave me a heavenly feeling. I took the chance to meditate and reflect on my semester progression. Time flew by so fast, I later realized that I had soaked in the tub for a good 45 minutes.
Hotel Housenkaku Onsen outdoor onsen pool
The outdoor pool located on the balcony had a spectacular night view of Beppu, a sight worth beholding. The elevation and positioning of the onsen gave me a completely new view of beautiful Beppu at night. The pool followed a consistent design pattern to that of the internal pool which made the transition from being indoors to outdoors barely noticeable. The water was mildly hot, but complete with the night breeze, this gave me a cozy feeling. For the 30 minutes I spent in the outdoor pool, my attention was divided between gazing at the beautiful stars and observing the brightly shining Beppu night lights. One unique attribute about the outdoor onsen was that you could observe nature and the engineering marvel of Japan all in one at the heart of Beppu City.
My recent night onsen adventure was refreshing. It allowed me to relax and take time off my busy class schedule. It gave me a sense of comfort and calmness and for once, I was able to forget that I was in the middle of a seemingly endless pandemic. I strongly recommend people to dive and explore the wide variety Beppu Onsen has to offer. Believe me! Beppu Onsen is a holiday bucket list on its own!
●Etiquette for your first onsen
Tattoos
While Tattoos are widely accepted in other parts of the world, in Japan, they are often viewed as taboo. However, most onsen facilities frequented by tourists, are tattoo-friendly. It is wise for one to enquire about tattoos directly to the onsen they are interested in visiting.
For the 2019 Rugby World Cup, Beppu City released a website for hot springs where people with tattoos can bathe. Click here.
Showering before you enter the bath
As I explained earlier, one must take a shower before entering the onsen pool. This etiquette ensures that good hygienic conditions are upheld all the time. Many onsen facilities come along with shower stalls, which makes it easy for one to shower before entering.
You must be completely naked
While a handful of onsen allow guests to wear swimsuits, most onsens in and around Beppu expect the guest to be completely naked when entering the water. If you are uncomfortable with undressing in public, private onsen are available. These are found mostly in ryokans or Japanese-style inns.
Basic Information
Hotel Housenkaku
http://www.h-housenkaku.net/en/
For Short visit hot spring user (no overnight stay)
Open : 13:00~21:00
Price : ¥600
MUROMBA Pascal Simbarashe
Hello! I am Pascal. I love reading books. Two of my favorite books are Educated by Tara Westover and The End of History and the Last Man by Francis Fukuyama. Politics and sustainability are some of my favorite topics. I am currently learning martial arts and I find it very interesting.