Amidst the uncertainty regarding the Tokyo 2020 Olympic Games, the global sporting event was conducted successfully from the 23rd of July to the 8th of August, 2021. As Japan commenced its intensive preparations for the much-awaited event, many students from APU were given the invaluable opportunity of volunteering during the Games. Here, we talked to Maina Salome, a third-year APM student, about her unique experience as a volunteer at the Olympic Stadium.
Q. Could you tell us more about your role as a volunteer in the Tokyo 2020 Olympic Games? What were the specific tasks assigned to you?
I was part of the Language Services Team under the Field Cast Office, and I was stationed at the Olympic Stadium for the Field and Track Games. My task was mainly to translate Swahili to English and vice versa between the athletes and the news reporters. I followed the athletes from the minute they got off the field and as they went through multiple interviews with media houses from all over the world. I had left for the event on the 1st of August and returned on the 7th of August, while my working days were Aug 2, Aug 4, and Aug 6.
Q. What motivated you to apply for this role?
I felt that it was important to give back to the community, to use my skills, to meet like-minded people, and to enjoy myself while doing so. When I saw the message on the Campus Terminal that APU had been asked to nominate language volunteers, I was ecstatic. APU has provided me with a lot of opportunities, and I thought, "This is a chance to give back and contribute to the APU Community as a whole." In addition to this, I have had volunteer experiences before. When I was in high school back in Kenya, I had volunteered at the largest public hospital. There was a visiting doctor from India who could only speak English. In addition to my other volunteering tasks, I translated Swahili to English and vice versa between the doctor and patients. It was such a fulfilling and rewarding experience that I knew if ever given such an opportunity, I would gladly fulfil such a role. My motivation for applying mainly came from my desire to help in any way possible to the best of my capabilities.
Q. What kinds of preparations and training had you done prior to your participation in this event?
Individually, I worked to brush up on my Swahili speaking and translating skills. This was not very difficult since I am a native speaker. Aside from that, there was a personalized page for Volunteers where training material was uploaded. It covered how to conduct yourself, what was expected of us, condition management guidelines, a handbook, and a checklist before training. Because it was during the school semester, we had no face-to-face training, so it was up to me to read the material sent and make sure I was prepared.
Q. How was the overall management of the event and what kinds of precautions were being taken in consideration of the pandemic?
The overall management was efficient. The organizers had laid down precise regulations and protocols for all the volunteers, including the places we could and couldn't go. I strictly followed these rules and limited myself to just the venues that I was assigned to.
Q. Did you face any difficulties during your volunteering experience?
The only challenge I would say I had to face was my nerves. I felt as if I was representing my school and country. I managed to have fun with it and did not feel nervous after a while.
Q. What is your favorite memory from this event?
I felt that as volunteers, there was a mutual understanding that our role was important to the success of the games. We worked in harmony with each other, helping where we could but ultimately, every single person performed their role with little to no direction. My group's supervisor remarked every single day how she had nothing much to do since we were all so proactive. I asked questions when I needed clarification and was very comfortable with the group of volunteers I was with even if we had known each other for only a couple of days. I was the youngest there; most of the other volunteers were pursuing their PhDs and some were years into their working careers. I admired the way they carried themselves, willing to learn regardless of their stature in life.
Adding to that, I met people from countries I had never met, including Poland, Italy, and Columbia. I had such a fulfilling time listening to their stories and hearing about so many different cultures and languages. It was such an eclectic group of people from so many different places, and we all happened to meet at the Olympics. My biggest pleasant surprise was the Japanese who knew some Swahili. It was such a shock to hear them speak my language while I'm still learning theirs. It gave me the motivation to keep learning and bettering my Japanese.
Q. What is your final takeaway from this experience?
Seeing the athletes in real life was such a surreal experience. The years of hard work they put into getting to where they are is evident in the way they look and conduct themselves. This not only comes from intense training of the body but also of the mind. Whether they won or lost, they carried themselves with grace and held their heads high. They knew they had done all that they could to be there, and they did their best. These are some lessons I will take forward with me in my studies and life in general. To take care of my mind and body to the best of my ability while pushing forward and not giving up in my endeavors.
Hearing Salome reminisce about her experience and reflect on her learnings evoked within me the desire to look out for opportunities that enable me to explore my interests and build on my expertise and I hope you are persuaded to do the same. Her story certainly validates the notion that as APU students, we must strike while the iron's hot and be vigilant of the numerous opportunities beyond APU that allow us to apply the same spirit of inclusivity and togetherness that we have been able to nurture throughout our time here.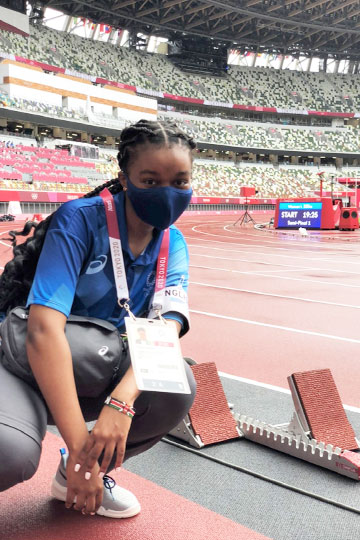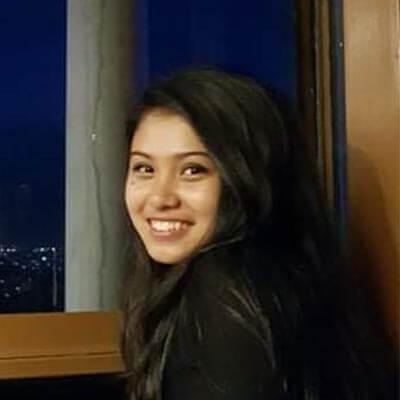 Alexa MAHARJAN
Hi! I am Alexa Maharjan, a third semester student from Nepal. I enjoy pursuing a range of interests, including but not limited to dancing, travelling, watching movies, and playing soccer. Writing is another hobby of mine that I am excited to explore as part of SPA. I hope to be able to put forth my ideas and vision while simultaneously getting a deeper understanding of student life at APU during my time as a SPA member.