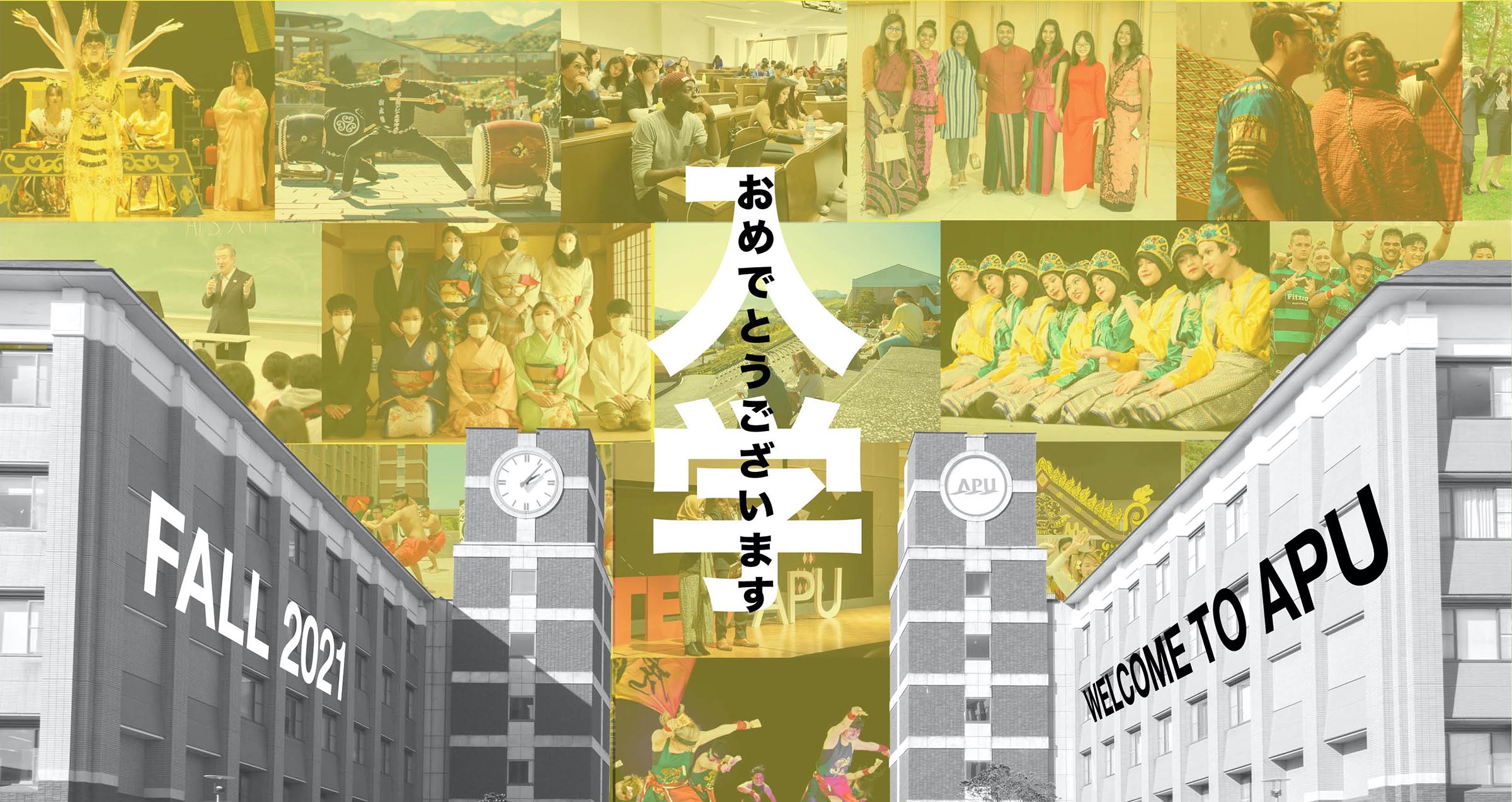 September 2021
Entrance Ceremony
Date & Time: Friday, September 24, 2021 11:30-12:00
Venue: Zoom
Opening Address
Ritsumeikan Anthem
Address by The University Representative
Introduction on Congratulatory Address
Address on behalf of Current Students and Incoming Students
Closing Address
Due to the impact of the COVID-19 pandemic, this fall's Entrance Ceremony will be held ONLINE ONLY via Zoom and livestreaming. This means that it will NOT be possible to attend the ceremony in person.
All new students are invited to attend via Zoom. Details on how to join via Zoom are as follows:
International students: Please check the information from the Office of International Admissions.
Domestic students: Please check the website for admitted students.
If you are not a new student, please watch the live broadcast of the ceremony on Facebook Live or YouTube Live.
Governor of Oita Prefecture
Mr. HIROSE Katsusada
Congratulations to all of you who are beginning your studies at Ritsumeikan Asia Pacific University. Whether you come from within Japan or from another country or region, I would like to take this opportunity to sincerely welcome all of you to Oita Prefecture.
I would also like to extend my heartfelt congratulations to all of your family members on this joyous occasion.
Since opening in 2000, APU has kept a stellar track record as a leader in the globalization of higher education in Japan, including the acquisition of international accreditation for its world-class business school. In the "Japan University Rankings 2021" published by the British higher education journal Times Higher Education, APU was the fifth highest ranking private university in Japan and number one among private universities in western Japan for the fourth year in a row. In this evaluation, the university received particularly high marks in the categories of Engagement and Environment.
Though known for its international reputation, APU is also integrated into the local community. By assisting with intercultural understanding and English education at elementary and junior high schools throughout the prefecture and by participating in local festivals, APU has proved a strong partner in the internationalization and revitalization of Oita Prefecture. Furthermore, when the new tourism college that is scheduled to open in 2023 is established, I expect it to contribute to the promotion of our local tourism industry as well.
You have enrolled in a global university that is still firmly rooted in the local community. Here, I am certain, while always being exposed to the latest trends in the world, you will make lasting friendships and learn many things on APU's campus, a place that attracts students from around 90 different countries and regions. Everything you learn and everyone you meet at APU will help you grow as a person and develop the ability to create the future.
While attending APU, I hope you will take an interest in what Oita has to offer. Enjoy everything from its abundant natural beauty and history to its culture and unique local foods as you proactively deepen your ties with the people of the prefecture. I also hope that Oita will become your second home and that, one day, you will serve as bridges between people, between regions as well as between Oita and the wider world.
In closing, I would like to wish you all the best of luck, and I pray for the continued prosperity of Ritsumeikan Asia Pacific University.
Mayor of Beppu City
Mr. NAGANO Yasuhiro
On behalf of the citizens of Beppu, I would like to congratulate you on your admission to Ritsumeikan Asia Pacific University.
Since opening in 2000, APU has developed a strong reputation as an international university open to the local community, while producing a wealth of outstanding talent through the establishment of its unique Global Learning Community, which aims to foster global citizens who will help build a free and peaceful world.
However, the global COVID-19 pandemic has utterly transformed the international atmosphere of the campus. I would like to express my heartfelt sympathy to those who were unable to come to Japan for the entrance ceremony and to the families of students who have been affected by the pandemic and the recession it has caused.
Amid this backdrop, face-to-face classes resumed in the spring of 2021 in parallel with remote classes, and it feels to me that APU is gradually regaining its former self. In 2015, the APU2030 Vision, a policy document that resonates with the SDGs, was formulated, and the university has created an environment to help students acquire the qualities that leaders are expected to possess. Not only are APU students exposed to a variety of cultures and languages, they are also asked to think about how they can use their experiences to give something back to the world.
The people of Beppu are not afraid to try new things, and their daily lives are full of joy and charm. Perhaps because of this, many APU students feel that Beppu is their second home, and the alumni community is very active. For this city to cope with change and overcome difficulties, we need the power of you, the younger generation. I hope you will share your ideas with us as we work together to rebuild Beppu into a vibrant city that attracts people from all over the world.
In closing, let me express my hope for the continued success of Ritsumeikan Asia Pacific University and for the health and happiness of its students and stakeholders.
Chancellor, The Ritsumeikan Trust
NAKATANI Yoshio
I would like to congratulate all students who today enter Ritsumeikan Asia Pacific University (APU) for the first time, and those who have completed their undergraduate degrees and today move on to continue their studies at graduate school. I also offer my sincerest congratulations to your families and others associated with you.
I greatly regret being unable to join you to celebrate in person, owing to the global COVID-19 pandemic that began last year.
The Ritsumeikan Academy is a private comprehensive academic institution comprising two universities – Ritsumeikan University and APU – as well as four affiliated junior and senior high schools and one elementary school. At Ritsumeikan University, some 36,000 students are pursuing study and research in 16 undergraduate colleges and 21 graduate schools across campuses in Kyoto, Osaka, and Shiga. There is a lively program of exchange with APU as well, so please do come and visit Ritsumeikan University once the pandemic subsides.
An entrance ceremony is an occasion to be remembered. I imagine you have looked forward to this day full of dreams and hopes. One and a half years have already passed since COVID-19 began sweeping the world, yet we have still not been able to find a way out of this crisis. I imagine that all new students joining us today would be feeling some anxiety, and that international students, and their families, would be especially concerned. Moreover, it is heartrending to think of the numerous new students who are still unable to travel to Japan. The COVID-19 crisis continues to pose major barriers to activities in human society. I believe that APU students, who come together from more than 90 countries and regions worldwide, are ideally positioned to develop a deeper understanding of this crisis as it develops simultaneously right across the world.
In your studies to date, you would have experienced an educational environment in which you share a space with teachers and classmates. But the restrictions on face-to-face communication have transformed all kinds of living environments. Great changes were required in the approach to education in universities, and through bold initiatives in Digital Transformation (DX), the shift to online learning has progressed rapidly. The fact that universities were able to continue their learning and research activities in this way is a credit to the efforts made by students, faculty and staff to improve their environment by seeking out the things they CAN do rather than lamenting the difficulties due to the crisis.
I believe that a university's place in wider society is to shed light on the problems facing society and to contribute proactively to their resolution. I hope that you too will look out to the society and world around you and think about your relationship with society. This will lead you to consider questions about what to learn in university and how to contribute to society, and ultimately to change society and the future. Tackle shared global problems through your academic endeavors, through your extracurricular activities, through your everyday life. Your conviction, effort, and proactive capacity will be absolutely essential in order to build a new society as we move toward what is anticipated to be a "new normal" world. I want everyone who studies at APU to share issues with young people from other countries and regions around the world, and work together with them to tackle difficulties and resolve problems. I urge to become people who can "Shape Your World."
Encountering others is a kind of miracle. I am genuinely delighted to have encountered each and every one of you at this university, and I wish you all the best for the future. I hope that through your studies at APU, you will empower yourselves to open up new possibilities for your own lives and for the future.
New Student Orientation
During orientation, important information about studying at APU (curriculum, course registration, grading, etc.) as well as leading a physically and mentally healthy student life will be provided during the guidance sessions.
Orientation Period: Tue., September 21, 2021 ~ Fri., October 1, 2021
Connect with friends from around campus.
Connect with friends from around the world.
So, why did you choose APU?
Introduce yourself to everyone at APU! Using the hashtag #NewToAPU, tell us, "Why did you choose APU?"
We will feature YOUR posts on the APU official Instagram @ritsumeikanapu & @apu.student !