"Knowledge", "Experience" and "Exchange" are fundamental components of learning at APU and the "Active Learning Program" which focuses on hands-on learning experiences has been expanded both in Japan and overseas. As part of this program, "FIRST (Freshman Intercultural Relations Study Trip)," an introductory overseas study program, has been offered to first year students since AY2007.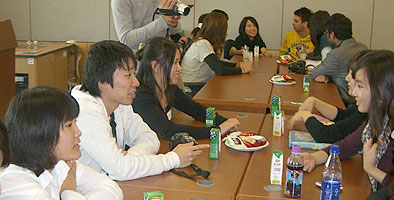 The program is offered during the quarter breaks in June and November and aims to promote cross-cultural awareness by exposing students to Asian culture and society in Korea, Hong Kong and Taiwan. Through this program, the students are also encouraged to find direction for their four years at APU.

In the 2008 Fall Semester, FIRST was held in Korea from November 21st to 25th. Since October, the participants studied Korean and prepared surveys in the pre-sessions with Korean students as TAs.




The participants traveled to Korea on the first day and moved to the designated regional cities with their groups on the second day. There, they conducted field research and orienteering with the surveys they had prepared in the pre-sessions. One rule of this program is for the groups to cooperate together, unassisted by the accompanying staff and TA, to travel to the designated city, conduct their surveys and arrange their own accommodation. Thus a significant feature of the program is that students learn to take action, have good judgment and sense of responsibility in a foreign culture. The designated cities are not famous travel destinations which many Japanese visit so the groups, while getting lost from time to time, discussed the means of transportation needed to reach their respective destinations. The students showed relief upon arriving at their destination and assertively approached the local people to conduct their survey. The students learned how to communicate by searching for accommodation and conducting surveys in a place where Japanese and English was not understood. Although they faced difficulty when negotiating for a room or eating at a restaurant, the students encountered the warm hospitality of the local people. On the last day of the program, the students returned to Seoul for exchange with students at Hanyang University, a student exchange partner university of APU.

Upon returning to Japan, post-sessions will be held for the students to reflect on their intercultural experience and to present on their survey results. With this FIRST experience as a foundation, we hope that students will participate in a more advanced overseas study program such as the long term exchange program or field study.