講演・シンポジウム|来学者
Jan 26, 2009
On Friday, January 9, 2009, the 5th CAP-THP Seminar entitled "Making People Gathering Place with Historic and Cultural Resources in a City" was given by Sunghee SHIN PhD., Senior Researcher, Incheon Development Institute.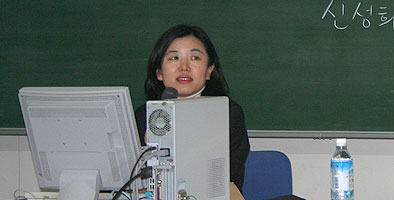 During her seminar, Ms. SHIN talked about people gathering places (places which attract people and encourage people to gather there) and what can be done to create such places. Speaking from her experiences as a researcher at the Incheon Development Institute, Ms. SHIN highlighted the importance of attracting a creative class of people such as designers, architects and artists who can make a contribution to a city and also encouraged the students who attended the seminar to be creative.

Ms. SHIN spoke of the leadership qualities needed to implement such a change, such as communication skills and knowing how to interact with people. Ms. SHIN gave President. Myeong Bak LEE as a successful example of creative leadership and also the Cheong Gye Cheon urban development project in Seoul as an example of creating a "gathering place". Cheong Gye Cheon is now a recreation area in downtown Seoul that was once a dark creek covered by a multilane elevated highway. Under the leadership of the then Mayor of Seoul, Mr. Myeong Bak Lee, the elevated highway was removed and the area was redeveloped into a popular a green area for local residents. The area has now become a popular gathering place in Korea and attracts both domestic and international tourists.

The lecture was held for the purpose of letting students know how to develop a city and the current urban development situation in Korea. The lecture was attended by domestic and international students in the Crossover Advance Program who are interested in urban development. The students attending the lecture remarked that it was interesting to see how Korea had developed a city to become famous.

Ms. Sunghee SHIN graduated Seoul National University and now is on an Incheon City development project team. She gave the lecture in Korean accompanied by a Japanese interpretation.


Reporter:PARK Songyi(APM2,Korea)