On Thursday, February 5, 2009, the APU Symphony Orchestra and Soul-Gospel Circle visited the Kyushu University Hospital at Beppu (Kyushu University Hospital) and gave a joint mini-concert.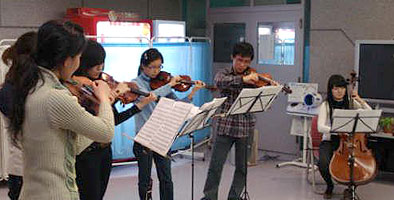 This concert was held by volunteers of APU musical circles after a member of the APU
Symphony Orchestra heard that functions were being held every month for patients at the Kyushu University Hospital. They performed 5 songs on the day such as "Brook Green Suite" (APU Symphony Orchestra) and "Amazing Grace" (Soul-Gospel Circle). In addition to the 2 circles, members of the APU Wind Orchestra joined in and performed a wind quintet which the patients and hospital staff enjoyed.

At the conclusion of the performance, TAHARA Misako (APS2, Japan) spoke of her enthusiasm towards her activities, "Through this concert we were able to give the patients an opportunity to experience music, and for us it proved to be a good opportunity to exchange with the community locals. In the future, I want to deepen exchange with musical circles and increase the amount opportunities to make a contribution to the community through music."

The APU Symphony Orchestra was established in 2006 and currently 12 members made of 8 international and 4 domestic students. To date they have performed, for example, on campus at the Annual Concert and off campus at hotels and kindergartens. The Soul-Gospel Circle, on the other hand, was established in 2002 as has performed at the 2005 Ritsumeikan Symphony Concert in conjunction with the Ritsumeikan Symphony Orchestra and in 2004 participated at the musical circles' joint concert 'APU Music Festival'. This was the first joint concert held between the 2 circles. We hope to see more exchange promotion as a result of this concert.