On Monday February 16 and Tuesday 17, 2009, APU Academic Advisor Gerald L. CURTIS who received his PhD. in Political Science from Columbia University (USA) visited Oita Prefecture and gave a lecture entitled "The New Obama Administration and Japanese Politics".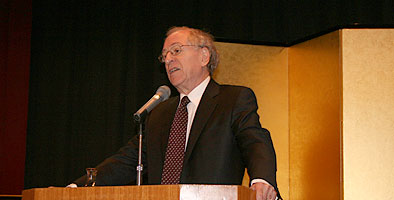 Mr. Gerald L. CURTIS is a leading authority on Japanese political science in the United States and an expert on US-Japan relations. Mr. CURTIS published the book "Election Campaigning, Japanese Style" based on his close following of a candidate in the Oita-Niku area Lower House Parliament election of 1967 and has deep connections with Oita Prefecture and Beppu City.

On Tuesday, February 17, 2009, Mr. CURTIS spoke at his lecture hosted by the Beppu City International Exchange & Economy Forum Executive Committee about the arrival of the Obama administration which he described as a dramatic change which will remain in American history, "the Obama Administration has an excellent communication ability which convinces the people in a calm and easily understood way from a moderate viewpoint. He has the makings of a great leader. Japanese politicians don't speak to the people. In order to fix Japanese politics we need to improve the single-seat constituency system in which 2nd and 3rd generations of the same family are easily elected. Japanese people need to have more interest in politics and get annoyed. Then politicians will have a sense of urgency and get on with the job of politics". Approximately 200 people came to hear his lecture including a few APU students. A third year APM student spoke of her impressions of the lecture, "I was able to hear a wide range of issues from Japan-US relations to the international problems of Afghanistan and North Korea. I learnt a lot".

Furthermore, on the same day, Mr. CURTIS was made a Special Honorary Citizen of Beppu City. This title is given to foreigners who have made a contribution to Beppu City and Mr. CURTIS received it for his work ("Election Campaigning, Japanese Style" same as above) which widely introduced Beppu City. To date, people such as mayors from sister & friendship cities to Beppu City and pianist Martha ARGERICH have also been awarded this title.

Prior to this lecture, on February 16, the NPO Oita Venture Conference hosted lecture attracted approximately 500 people from within and outside of Oita Prefecture and the reception which followed also went well. From APU, Dean of Asia Pacific Studies YAMAGAMI Susumu gave a toast and the participants and Mr. CURTIS deepened their friendships.

The Academic Advisors support APU particularly in the advancement of research and education. The 53 members from Japan and abroad include Nobel Prize winning scholars, prominent researchers and individuals from educational fields. In addition to Gerald L. CURTIS, there are many prominent members who provide their support such as Dr. Yoichiro NAMBU who received a 2008 Nobel Prize for Physics and Taiwan's first Nobel Prize winner Prof. LEE Yuan Tseh.