On Friday, April 3, 2009, the "AY2009 Spring Semester AP House Welcome Ceremony" took place at the APU Millennium Hall to welcome the new AP House residents.




Over 600 new residents and Resident Assistants (RA) attended the ceremony.

Dean of Student Affairs, KIM Chan Hoe gave a few words of encouragement to the new residents, "Because we have so many different nationalities here, there may be times when you feel frustrated or have misunderstandings due to the many different cultures. Please respect those with different culture and habits. These experiences, I'm sure, will be a great help in your life and career development in the future. Please make lots of precious memories at AP House."

Following this, OSHIMA Yuki (APM1, Japan) represented the new residents and spoke of his expectations of life in the dormitory, "There are a great deal of things I feel at a complete loss such as language, culture and religion.Having said this, I realize that this can only be experienced at APU House so therefore I want to have exchanges with a range of people and not be afraid of failure. Let's make the most of our AP House life, our new home, with our new family."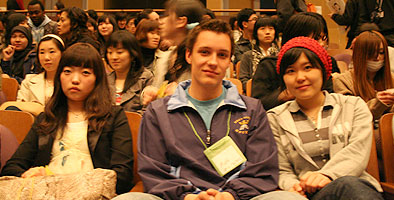 Following this, there was a showing of a movie made by RAs which explained the "AP House Manners". The dormitory residents laughed as they watched the movie which stared the RAs themselves.

After the ceremony was brought to a conclusion with an introduction of officials and RAs, a welcome party dinner hosted by President CASSIM was held at the Cafeteria during which the new residents introduced themselves to each other and started building up the dormitory life.
Reporter, Student Press Assistant (SPA): KOIKE Yuki (APS2, Japan)


*Resident assistants, or RAs, are domestic and international students who, in collaboration with the university, reside at AP House with the aim of supporting the dormitory students in their daily lives. The role of the RA is to provide assistance to international students who have come to Japan for the first time to help them adapt to the Japanese lifestyle, assist them in getting used to dormitory life and encourage interaction between the boarding students.