APU Women's Athletic Team Member WANJOHI Mary Wangari (APS 1st year) won the 5,000m race of the Emperor's Trophy 74th All-Japan Collegiate Athletics Championships in spectacular fashion. The Championships, which were held from 1 - 3 July at the National Stadium in Tokyo, produced amazing performances of athleticism and sheer determination.
Representing APU in her first national title, Ms. WANJOHI steeled herself with great poise as she took to the field with her competitors which consisted of 47 top athletes from around Japan. From the very start Ms. WANJOHI joined the lead group which set a furious pace for the rest of the race. Nonetheless she maintained her energy reserves for the last lap whereupon she tore away from the rest of the pack.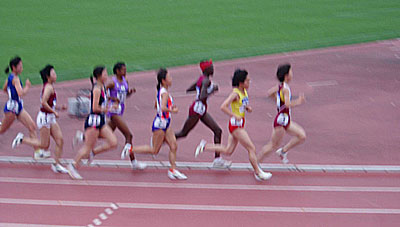 In what can only be described as a truly inspiring feat, Ms. WANJOHI raced past the finishing line to take out at the championship for the 5,000m event in her personal best time of 15:56.34.
The day's proceedings did not finish there: Mary Wachuka MWANGI (APS 1st year) put in a great effort to finish 8th in her race completing the 1,500m in 4:28.20.
In addition, we are pleased to report that on the same day, competing in the 2005 Gold Coast Half Marathon held in Australia was APU graduate Ms. Yuko SATO (now working for Sanix Inc.) who swept the field to finish first in 1 hour 12 minutes and 47 seconds.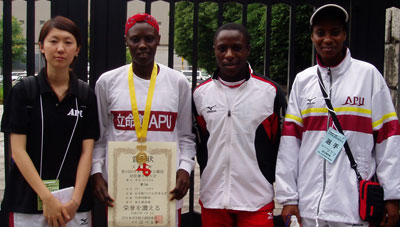 The APU Women's Athletic Team will not be resting on their laurels though; all the team members are back hard at work carrying out a gruelling training schedule in order to prepare for the preliminary race to All-Japan Ekiden Athletics Meet (the Kyushu Road Race Titles). The team has competed at every All-Japan Ekiden Athletics Meet for the last 5 years and is aiming for a top placement at this year's race. With the support and encouragement of every APU student the team will no doubt put in a performance that will make APU proud.