On Wednesday, January 20, 2010, Virgi Agita Sari (APM3, Indonesia) and KERAF Yohanna Sofia Vunga (APM3, Indonesia) were awarded at the New Year Celebration meeting for faculty staff. This celebration is held to recognize and praise the extracurricular success stories of AY2009.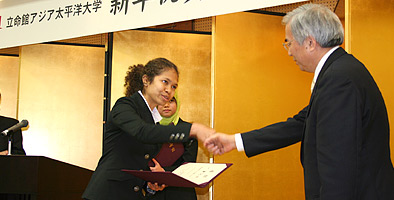 Also held at the Ritsumeikan campus in Kyoto, this celebration recognizes outstanding student achievements, both national and international, in the fields of academic research, arts and culture, and sports.

Virgi Agita Sari and KERAF Yohanna Sofia Vunga both participated in the 2009 Harvard Project for Asian and International Relations (HPAIR) Business Conference hosted by Harvard University in August 2009. Their group placed second in the business strategy contest section of the conference.

Dean of Student Affairs, Professor KIM Chan Hoe introduced the remarkable achievements of Ms. Virgi and Ms. KERAF to the audience and after receiving their certificates from President KORENAGA, the students received a warm applause. Ms. KERAF commented on the award, "We were very surprised to place second in the HPAIR conference but we are very happy to have our achievements recognized by the university".

Established in 1991 by Harvard University, HPAIR aims to promote the exchange and interaction amongst students around the world with a strong interest in the international problems facing the Asia-Pacific region. Held in major cities throughout Asia, this annual event began in 1992 and is one of the largest official events hosted in the Asian region by Harvard University. Welcoming leading figures from the host nation's political, business and cultural circles as keynote speakers, this event invites leading professors and businessmen and provides a venue for undergraduate and graduate students to engage in four days of in-depth learning. This event also contributes to the creation of international links and networks between the participating students.

Held in Tokyo over four days, HPAIR 2009 was attended by approximately 200 participants including students and up-and-coming researchers.
The business strategy competition theme was, "In today's economically chaotic and increasingly environmental conscious times, what strategies should luxury automobile maker Daimler-AG Corporation employ in the Asian region in particular?"

Please click here for a past article on the HPAIR 2009.