On Friday, January 22, 2010, five international students were presented their scholarship list at the Daikin Industries, Ltd. Scholarship Conferral Ceremony held at APU.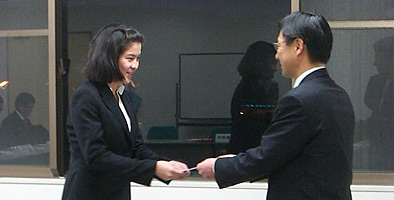 This scholarship was established in AY2008 aiming to nurture people who can make a future contribution to regional advancement or social development in the Asia-Pacific Region. The ceremony was attended by Daikin Industries, Ltd., Director of Human Resources Mr. YAMADA Tomohiko; Vice-President, YAMAGAMI Susumu; and the five international students eligible for the AY2009 scholarships.

After a word of thanks from Vice-President YAMAGAMI Susumu as a representative of APU, Mr. YAMADA then gave a few words of encouragement to the scholarship recipients, "It is one of our mottos at Daikin Industries that `the sum total of everyone's growth is the company's development'. In the wake of the `Lehman shock' that struck business markets last year, we need to take on new business challenges in the future. Even if your business challenge fails it will be learning experience that will lead to success. I hope you will continue to develop and work hard to make society an even better place". Mr. YAMADA then presented each of the recipients with their scholarship.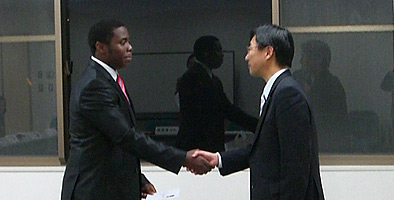 Scholarship recipient CITRA Laras Kinanti (APM3, Indonesia) expressed her thanks, "I am very thankful to have been presented this scholarship. In Indonesia it's quite normal not to be able to go to school and I am very happy to receive this support and be able to study without worrying about money. I will take full advantage of this opportunity and intend to devote myself to my studies at APU."

Following the presentation a Q&A session was held during which the students raised a number of questions about Daikin's business strategy to increase its overseas market share, its business practices and its internship system. One could see the students' strong ambitions coming through unperturbed by the effects of the economic slowdown.

As one of the businesses involved with the Global Business Leaders Development Program (GBLP) – Japan's first exchange student support program – currently being run at APU and also a member of the Advisory Committee* (AC), Daikin Industries continues to cooperate with APU's initiatives to nurture globally active graduates.

The AY2009 Daikin Industries, Ltd. Scholarship Recipients:

LIM Jihyun (APS3, Korea)
AMAHAH Wisdom Somadina Nkem (APM3, Nigeria)
Yogie Permana (APM3, Indonesia)
HUANG Yihuang (APM3, China)
CITRA Laras Kinanti (APM3, Indonesia)

*The Advisory Committee
Established before the university opened, the Advisory Committee aims to provide multifaceted support to the University and currently has 319 members (as of January 2009) including former heads of state of nations around the world, ambassadors, and leading figures in the Japanese business and economic circles. The Committee continues to make a range of contributions to the development and enrichment of study and research at APU.
Reporter, Student Press Assistant (SPA): Isshiki Kosuke (APS3, Japan)