On Wednesday 3 August, the Hattori Eiichi Scholarship Conferment Ceremony for International Students was held in Conference Room 6 of the Administration Building.This scholarship was made possible thanks to Mr. HATTORI Eiichi, President of Hattori Heating Industries Co., Ltd who is also a member of the APU Supporting Group. The scholarship was established in 2002 with the purpose of supporting students who despite facing financial difficulties are nonetheless determined to pursue their studies.
This year 10 international students were each awarded 100,000 yen in scholarships. The awardees consisted of 2nd and 3rd year students.
Mr. HATTORI Eiichi himself and the General Affairs Manager Mr. ISHIKURA Hideho attended the ceremony with the former presenting the scholarships to each student. The awardees ranged from countries such as Sri Lanka, Myanmar and Indonesia.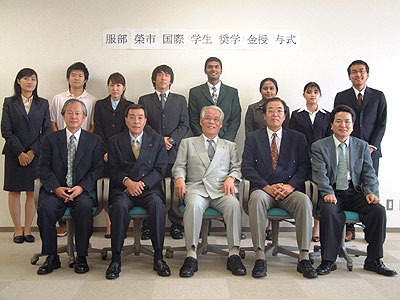 Mr. HATTORI offered the following encouragement to students: "I want you to treat your own self with the utmost importance. And I want you to strive to contribute to development in your country as well". The students expressed their gratitude to Mr. HATTORI for providing them with scholarships. Students commented that: "This scholarship is of great importance to me and will enable me to concentrate on my studies"; "I'm going to work even harder to aim for my future dreams".