APU is currently home to students from 81 different countries and regions around the world. "Multicultural Weeks" offer students the opportunity to take the central role in planning a week-long event that puts the spotlight on one of the many nations represented on campus, its language and culture.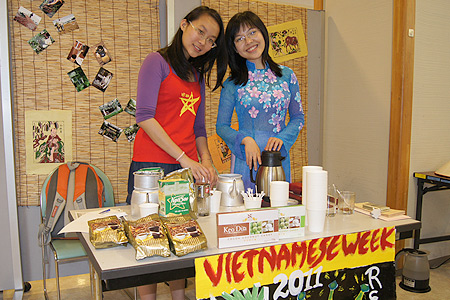 The second installment, "Vietnamese Week", kicked off on Monday June 13 and will run until Friday 17. During the week, a number of colourful events will put the spotlight on the unique Vietnamese culture and language.

The five-day event will feature a range of music and dance programs including an opening event, dance party and mini-concert. A special range of exotic and traditional Vietnamese dishes will be available at the Cafeteria for a limited time at very reasonable prices.

Held on the final day of the week, the "Grand Show" will feature a variety of Vietnamese folk stories and other aspects of Vietnamese culture through traditional martial arts, a fashion show, and much more. As a special feature of the event, 116 year-five students from Ritsumeikan Primary School will accompany the performers for a joint rendition of a Vietnamese folk song.

We hope to see you there!

The Schedule for Vietnamese Week

Monday June 13 – Friday, June 17 . 10:30-17:00 @ Cafeteria
Display of traditional Vietnamese "Ao Dai" dresses, Vietnamese coffee tasting

Monday June 13. 12:10-12:25 @ by the fountain
Opening Event: Dance Performance
Tuesday, June 14. 19:10-21:00 @ Student Hall
Dance Party
Program: Vietnamese snacks and dessert buffet
Dance Party
"Ao Dai" Beauty Concert
Entry: 500 yen
Tickets on sale on June 13 & 14 at the cafeteria ticket booth (door sales also available)

Wednesday, June 15. 13:00-16:00 @ APU Campus
Vietnamese Quiz Contest "Race to discover Vietnamese Culture"
Program: In groups of 4-5, teams will take part in quiz events set up around the APU campus with prizes for the top placing teams. Open to the general public.
Registration: Please register at the cafeteria special booth (closes at 13:00)
Wednesday, June 15. 10:00-15:00 @ APU Main Ground
Soccer Tournament
NB: not open to the general public. To be cancelled in the event of rain
Thursday, June 16. 17:00-17:30 @ Cafeteria
Mini Concert
Friday, June 17. 18:30-20:30 (doors open at 18:00) @ Millennium Hall
Vietnamese Week Grand Show
NB: this event will also be streamed live on the internet via Ustream* (18:30-20:30) Participating countries for the Spring Semester 2011 Multicultural Weeks are as follows:
June 6 (Mon) – June 10 (Fri) First installment: Chinese Week (finished)
June 13 (Mon) – June 17 (Fri) Second installment: Vietnamese Week
June 20 (Mon) – June 24 (Fri) Third installment: Myanmar Week
June 27 (Mon) – July 1 (Fri) Fourth installment: Korean Week
July 4 (Mon) – July 8 (Fri) Fifth installment: Indonesia Week
July 11 (Mon) – July 15 (Fri) Sixth installment: Thai Week

NB: Footage of the Grand Show (held on the final day of each week) will be streamed live on the internet via Ustream. Please be sure to tune in and enjoy the colourful performances by APU's multilingual and multicultural students. (More information will be available on the broadcast times for each week as the event approaches).

Streaming .TV shows by Ustream
Since AY2011, APU has been streaming a range of campus events including the entrance and graduation ceremonies, and major cultural events as a way of introducing the unique multicultural and multilingual campus to a wider audience.
*Ritsumeikan-APU Ustream: http://www.ustream.tv/channel/ritsumeikan-apu