On Friday, August 26 – Thursday, September 1, 2011, thirty-four international students from sixteen different countries and regions including Indonesia, Thailand and Bangladesh, took part in 'World Week' as guest teachers. World Week is an annual event held at Ritsumeikan Primary School to promote international understanding.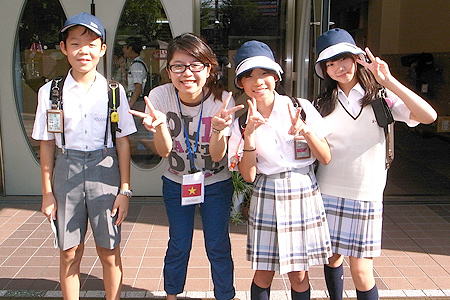 The guest teachers were assigned to different classes and introduced their students to their native countries' culture, customs and languages through a range of indoor and outdoor activities including English lessons and cultural exchange activities with traditional costumes, song and dance. The guest teachers also home-stayed with their students, took part in a tour of Kyoto guided by their student-hosts, and enjoyed the opportunity to experience Japanese culture.

Buddhini Perera (GSA, Sri Lanka) participated in the event and gave her impression: "The World Week program was a great opportunity for everyone at RITS Primary School to use English as an important tool for understanding the world. Not only the students, but also the teachers and staff were very welcoming and treated us as though we were members of the royal family. We bonded with the school and our host families in a way that created life-long memories. I hope that the program enjoys continued success and becomes a great influence on all participants to shape their attitudes and become more understanding of different cultures".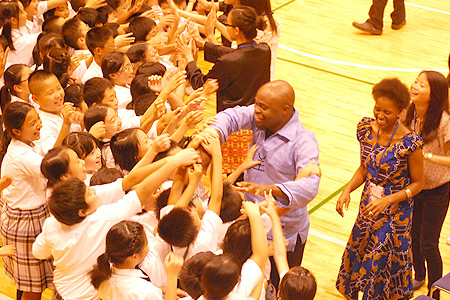 Established in 2006, Ritsumeikan Primary School has raised the 'Raising Global Citizens' as one of its central educational goals and is pouring its efforts into English language education. From Grade 1, students take English classes delivered by native English speakers and, beginning with APU, the school provides a range of opportunities to engage with people of different nationalities.

APU hosts many students interested in international education and continues to support the development of children at Ritsumeikan Primary School and throughout Oita Prefecture into future global citizens through nurturing an international outlook, promoting cross-cultural understanding, improving English language skills, and much more.

Please click here for the Ritsumeikan Primary School homepage:
https://www.ritsumei.ac.jp/primary/