On Friday, January 13, 2012, the Africa Week Grand Show was held at the APU Millennium Hall as the first Multicultural Week Grand Show of the New Year.
African Week itself was a multicultural event thanks to the diverse group of students who got involved including almost all of the 45 African students at APU in addition to many other nationalities including India, Sri Lanka, Indonesia, China, Japan, Mongolia and many more.

The show followed the story of four brothers who were sent to the northern, southern, eastern, western and central parts of African continent. Each brother introduced what they discovered through videos, songs, dance performances and a fashion show. By ensuring that almost all of the African students at APU were involved, the show hoped to send a message and express the dream for a peaceful and united Africa.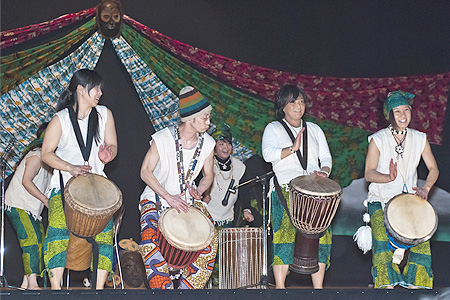 Oita citizens were also invited to take part in the show including a group of locals who performed a segment called "Drum Drum Africa" which proved to be a lively display of African culture. A local child also joined the stage and received a warm welcome from the audience.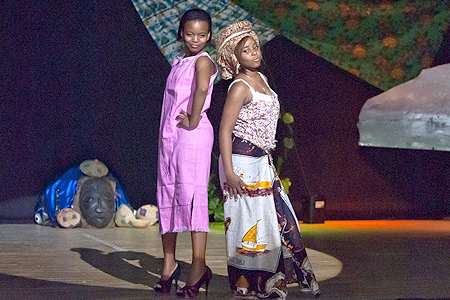 African Week representative, Wame Sinead Iphefeng GABAAKE (APS2, Botswana) spoke of her motivation to hold this event and expressed her thanks to everyone involved. "I wish to thank all the African students at APU and everyone who got involved in the project. Your help was a great encouragement and it gave me a lot of positive energy". She also offered a few words of advice for the organizers of next year's show and stressed the importance of sticking to the schedule and ensuring adequate preparation.

Participating countries for the Fall Semester 2011 Multicultural Weeks are as follows:
Dec 5 (Mon) - Dec 9 (Fri) First installment: Sri Lankan Week (finished)
Dec 12 (Mon) - Dec 16 (Fri) Second installment: Japanese Week (finished)
Jan 10 (Tue) - Jan 13 (Fri) Third installment: African Week (finished)
Jan 16 (Mon) - Jan 20 (Fri) Fourth installment: Taiwan Culture Week (finished)
Reporter, Student Press Assistant (SPA):ZHAO Ruixi (APM3, China)