Students Release Balloons to Raise Funds for Children
The APU registered circle, C-Balloon Project 2006 Committee, declared the week of January 21-27, 2006 as C-Balloon week. The committee held a balloon event as well as many other events on- and off- campus to raise awareness of the importance of "knowing about," "caring about" and "thinking about" children. The events were attended by Beppu residents and of course the students of APU.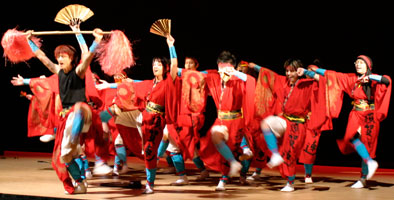 Performance in the Millennium Hall on the Last Day of C-Balloon Week
The committee is continuing on with the ideas from Crossover Sea 2005 – a charity event that was held to raise funds for the victims of the 2004 Indian Ocean Tsunami disaster. Their goal is to teach as many people about the various problems going on in the world –- problems that seem "far" from us –- and for them to be active in these matters.
The main event for C-Balloon 2006 was the balloon event. The committee also held other events such as the A Voice 2006 and Share 2006 Photo Exhibition which had the theme of sharing one's sense of values; playing table tennis and volleyball with elementary, high school and the House of Sun students; having fun teaching English to kindergarten kids; and holding a flea market which local citizens could also participate in.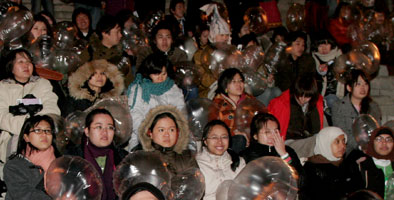 This year balloons were given in exchange for purchase of 300 yen pamphlets. On the last day of C-Balloon week, a large number of students congregated at Wave Amphitheatre and hundreds of biodegradable balloons were released into the night sky. The donations collected during the event will be used towards producing a picture book. The picture book is to teach children that there is a world that we do not experience everyday. The committee would like the children to have an interest in the society around them and also countries that are far away from them. The students are working hard to finish the picture book by mid-May.
Once the picture book is finished, the project committee plans to distribute copies to Himeyama Kindergarten, Yamanami Kindergarten, Yamanami Nursery and Oohirayama Nursery's Wakaba school children who participated in the events. The committee also plans to distribute the picture books to municipal child centers and libraries. Through this picture book the C-Balloon Project committee hopes that the children of Beppu City can start seeing the world that they do not know about, and think about the other people in the world.
With the support of various people the committee was able to collect donations totaling 369,743 yen. The committee would like to thank each and everyone for their kindness and support.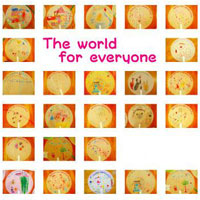 Image of the Children's Book