In February 2007, Hiji Town and APU formalized a Friendship and Exchange Agreement, and the partners have since organized numerous exchange events. On Sunday, June 17th, 2007, 13 APU students took part in rice planting near Hokeji (Temple) in Toyooka, Hiji Town.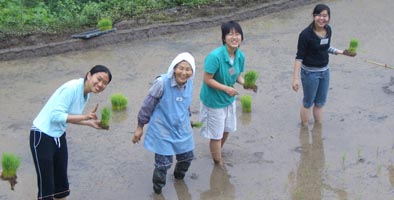 Local farmers guided students in what was for many a first-time rice planting experience. After the rice was planted, students enjoyed rice balls, Japanese pickles, and wild vegetable dishes that the locals kindly prepared for them. The students also listened attentively as the locals talked about local agriculture and asked many questions about life in Hiji Town. In turn, the residents asked the students many questions about their home countries.
The students promised the Hiji residents that they would come back for the rice harvest in October.