On Wednesday, August 1st, 2007, the Hattori Eiichi Scholarship Conferment Ceremony for International Students was held at APU.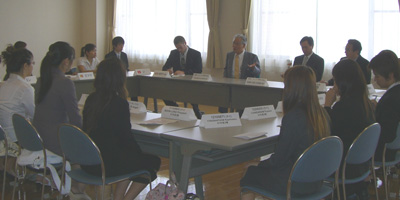 This scholarship was made possible thanks to Mr. HATTORI Eiichi, President of Hattori Heating Industries Co., Ltd and member of the APU Supporting Group. The scholarship was established in 2001 with the purpose of supporting students who despite facing financial difficulties are dedicated to pursuing their studies.
This year 10 international students were each awarded a 100,000 yen scholarship. The awardees consisted of 2nd and 3rd year students.
Mr. HATTORI Eiichi himself and the General Affairs Deputy Manager Mr. KAWAMURA attended the ceremony with the former presenting the scholarships to each student. The awardees represented countries such as Thailand, Mongolia and Sri Lanka.
Mr. HATTORI offered the following words of encouragement to students: "Never give up! Take the chances offered to you and always try your best." The students expressed their gratitude to Mr. HATTORI for providing them with scholarships, making comments such as "I am so grateful for receiving this scholarship. I think this opportunity will encourage me to study even harder so that one day I can become a valuable member of society".