For three days, between Wednesday, August the 22nd and Friday, August the 24th, APU hosted the 'Kyushu-Souhatsu-Juku 2007' symposium.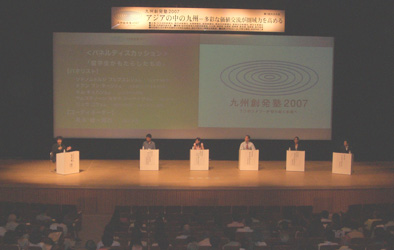 From the viewpoint of 'Kyushu's local strengths', the symposium aimed at deepening discussions on societal topics relevant to the creation of an area for the next generation, as well as the reevaluation of the resources and materials that Kyushu has to offer. Both topics are important if Kyushu is to effectively and efficiently combine the assets that it has built up thus far with a revitalization of the local region. The regional based theme of the symposium brought with it sponsorship by seven Kyushu based newspapers.
Neuroscientist Mr. Mogi Kenichiro was invited as overall coordinator to give a keynote lecture and participate in separate sessions on the topic 'Kyushu as a Part of Asia – Diverse Exchange Helping Boost Regional Strengths', and how the exchange that Kyushu has with Asia can help boost cultural strengths and economic vitality.
On the second day a Panel Discussion was held to discuss 'What International Students Bring to Oita'. DOAN Phuong Thanh (APM4、Vietnam) participated in the discussion on behalf of APU, alongside current and graduate students from other universities within Oita Prefecture. Ms. DOAN made the following comments during the discussion, "In order to create more genuine international exchange we need to raise the level of international awareness and communicate more with each other. I have only been here for a year and a half but I hope to increase my Japanese language ability and knowledge about Japanese culture so that I can become a truly international member of the community after I graduate from APU."