A debriefing session about this year's summer field study, "Environment and Town Planning Survey Research for Sustainable Regional Management" held in Iida City, Nagano Prefecture, took place at APU on Tuesday 9th October.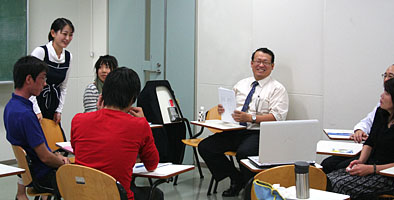 The Iida City field study took place from 4th – 9th August and 12 APU students took part. During this time the students conducted a survey on the current status of the "Southern Shinshuu EMS 21", an environmental management system unique to the Iida area. They were also briefed on the research study results for the "Iida Puppet Festa", and studied Iida's town planning activities from a wide range of perspectives.
At the debriefing session the students firstly divided into two groups, "EMS 21 Regional Edition" and "Settlement Assistance Policy for Young People". They then summarised on the places they visited over the six days and followed this with a presentation of their policy suggestions for Iida city.
The mayor of Iida City, Mr. MAKINO Mitsuo, also attended the session and concluded with a few words to the students, "You have absorbed so much about Iida city in such a short time, that as your second or third hometown, I urge you all to come back to Iida anytime. I am looking forward to meeting you again".
What is a 'Field Study'?
APU education stresses three basic elements which are attained through study, "Knowledge", "Experience" and "Exchange". For this reason a program which emphasises the value of study through practical experience was designed and developed as 'Active Learning'. This is a program which encourages students to take part in on-site practical study in Japan or abroad and also incorporates overseas student exchange programs, language study programs, internships and field studies. During this year's summer session 11 field trips took place in Japan, in which a total of 110 students took part.