On Wednesday 24th October, around half of APU's first-year students went on a field activities trip of Beppu City as part of the "New Student Workshop II" program. The students totaled 760, and the remaining first-years are scheduled to go on the same field activities trip in December.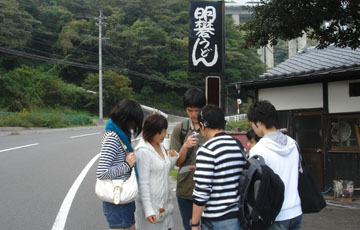 Workshop Objective
The "New Student Workshop II" is a compulsory subject for first-year students. Through activities in small mixed groups of international and domestic students, it aims to help the new students gain experience in the basic elements of studying at university while developing cross-cultural understanding.
In 2007, two projects were implemented: "Learning through Observation" and "Learning through Reading". In the observation project, the mixed group of English and Japanese speakers takes part in field activities outside the university and compiles a photo essay in line with a particular theme. In the reading project, the students are separated into two groups of English and Japanese speakers in order to study appointed textbooks. They then hold discussions and make presentations based on these materials. The students are divided into these two groups in order to take part in both the observation and the reading projects, which run for six weeks respectively.
Field Study Content
The students participating in the observation program went on the field activities trip on 24th October and were divided into approximately 128 groups of six. Together with their senior student teaching assistant, the groups went to work taking photos and carrying out research, each group in one of 64 different locations including Myoban and Hamawaki. For their project they had to choose one topic from a list including billboard advertising, the seasons and Japanese culture, the results of which they will compile and present to their class in November.