From Monday 7th to Friday 11th January, "Africa Week" is being held as the third part of the fall semester's Multicultural Week at APU.For the duration of Africa week, traditional food will be available for purchase and a range of traditional African costumes will be exhibited at the university cafeteria.
On Friday 11th January, the last day of Africa Week, there will be a grand performance in the Millennium Hall, which will include the music and traditional dance of the various countries of Africa.
There are currently 66 students from Africa studying at APU, and in March 2007, APU signed an Agreement of Cooperation with the University of Botswana and is looking forward to accepting more students from Africa as a result.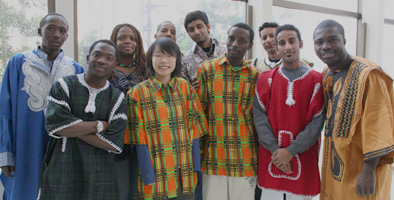 Traditional Costume Exhibition
Date
:Tuesday January 8th: 13:00-16:00
Wednesday January 9th: 12:00-15:00
Venue
:Cafeteria
Grand Performance
Date
: Friday January 11th: 18:30-21:00
Venue
: Millennium Hall
Content
: Dancing, Singing, Fashion Show etc.