With students from over 80 different countries and regions around the world at APU, 'Multicultural Weeks' are held to introduce the languages and cultures of this diverse range of countries. APU's Fall semester Multicultural Week program concludes with "India Week", which began on Tuesday 15th January.
For the duration of India week, traditional food will be available for purchase at the university cafeteria and there will also be the opportunity to try on traditional Indian clothing. Then on Friday 18th January, the last day of India Week, there will be a grand performance of traditional Indian music and dance in the Millennium Hall.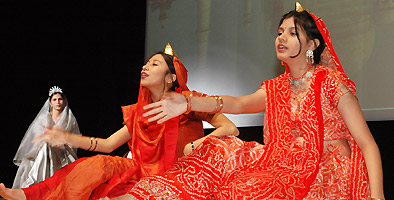 The schedule for India Week is as follows:
Wednesday 16th January
*Indian Dress Experience: try on the traditional clothing of India
*Photo & Poster Exhibition: Highlighting India's history, culture, religion & movies
Place: Cafeteria
Time: Lunch Break
Friday 18th January
*Grand Performance: Indian comedy show, dancing, singing, fashion show etc.
Place: Millennium Hall
Curtain up: 18.30