On Wednesday 16th January 2008, a special lecture was held by Ritsumeikan Elementary School Vice President and Ritsumeikan University lecturer, Professor Hideo Kageyama, famous as the promoter of the "Hyaku Masu Keisan" (calculations carried out on a 10-by-10 grid of numbers).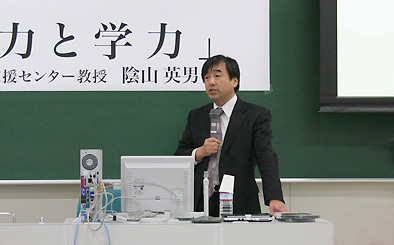 Professor Kageyama lectured on the theme of "Zest for Life & Learning", and stated that intellectual power and academic improvement are the decisive factors in enhancing brain function. He also emphasized that following a lifestyle of "early to bed, early to rise & breakfast" can improve learning power and vitality. He then continued by talking about concrete teaching methods, such as the 'high-speed simple repetition' of "Hyaku Masu Keisan", which sharpens the memory.
Furthermore, he also highlighted problems in Japanese education by using, as examples, educational situations in other countries and various data related to education in Japan. Mixed with a little humour, Professor Kageyama's lecture and questions to the students raised laughter at times, but he left the students with this important message: "If you have drive, you can pave your own way in life. I hope you will all carve out a path to a new era."