On Wednesday 6th February 2008, a ceremony was held for two trainees from the Nippon Light Metal Company, Ltd., Mr. MALAPONG Jaturong and Mr. IINO Masaki, who completed the requirements of APU's MBA Special Program. The two trainees attended APU as non-degree students from September 2007 and received their certificates of completion from APU President, Monte CASSIM.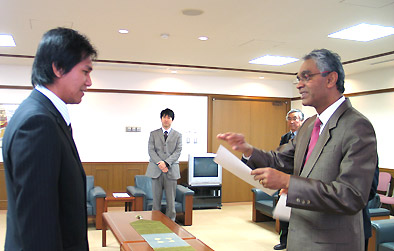 Mr. MALAPONG expressed his feelings of gratitude: "I would like to thank Nippon Light Metal for giving me this wonderful opportunity, my colleagues at the company who are like a family to me, the professors who empowered me with their knowledge, and the people who shared this time with me. I will never forget any of you."
Mr. IINO then reflected on his experience with determination: "The MBA course lectures were all held in English, which was really difficult for me in the beginning, but many people gave me a helping hand and I was able to study well about technology management and innovation. I will treasure the experience and knowledge that I have gained and, looking upon it as a new beginning, I will continue to push myself forward."