On Monday 31st March 2008, the Spring Semester Orientation for 40 new international exchange students took place in APU classroom F103.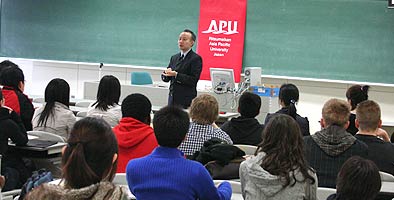 APU welcomes not only many regular full-time students from overseas, but also those who choose to study on a temporary basis, such as short term exchange programs. In comparison to other Japanese universities, APU's flexible academic system, which boasts a bilingual education system as well as semester, quarter and session classes, allows international exchange students to undertake a course that best suits their needs.
These 40 new students joined APU from the 28 universities in 13 countries and regions that have agreements with APU, including universities in Botswana, Korea and America, which entered into exchange agreements with APU in the past year. In total, 73 international exchange students, hailing from APU affiliated universities in 21 countries and 45 regions worldwide have joined APU to study during the 2008 Spring Semester.
The new APU Affiliated Universities and Institutions are as follows:
*University of Botswana, Botswana (from November 2007)
*Sogang University, Korea (from August 2007)
*Minnesota State University, Moorhead, USA (from July 2007)