On 25th June 2008, The Democratic Republic of Timor-Leste Ambassador Extraordinary to Japan and His Excellency Mr. Domingos Sarmento AlVES and Second Secretary, Julio da Costa Freitas visited APU to attend the One Village One Product (OVOP) Rural Development Training, which was delegated to APU by the Japan International Cooperation Agency (JICA).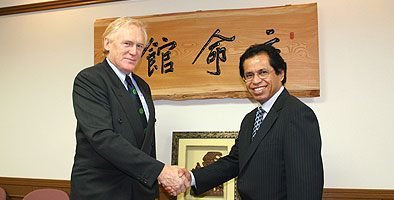 Ambassador Domingos has been very much interested in the OVOP movement. When he heard that 3 East Timorese government officials were participating in the training, he had a strong desire to join the training and study together with the trainees, so he took time out of his busy official duties and came to APU.
For 2 days, on the 25th and 26th, he attended the APU lectures together with the other 12 trainees and visited some towns actively undertaking the One Village One Product Movement like Ouyama Town in Hita City.
In the morning of the 25th, before attending the seminar, he made a courtesy call with APU Vice President, Professor Cooper and made the following remarks: "East Timor is a new country having just attained independence. We are currently in the process of building its governance, politics and system. I believe we have much to learn from Japan, which had rebuilt itself after the war. I have seen the Thai people enthusiastically undertaking the OVOP movement. I later found out that the OVOP movement in Thailand came from Oita in Japan and I was surprised. I would definitely want to implement the OVOP movement in my country".