On Thursday October 2 2008, the Republic of Botswana Ambassador to Japan, His Excellency Mr. Oscar MOTSWAGAE, visited APU and enjoyed a conversation with President Monte CASSIM.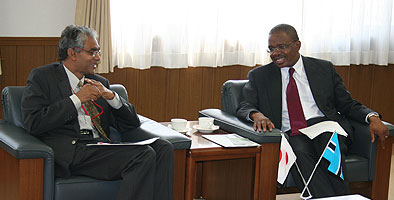 This was the 2nd time His Excellency Mr. MOTSWAGAE has visited APU, having also visited APU in December last year.
During the conversation His Excellency Mr. MOTSWAGAE said "I will do my best to increase the number of students from Botswana in the future. Botswana wants to strengthen relations with Japan which is renowned for its scientific and technical expertise. I hope that we can build a cooperative relationship between Botswana and APU which can be the start of strengthening ties between our two countries".
To which President CASSIM replied "Let's get some great students from Botswana making a successful contribution in society" and then discussed details towards strengthening the cooperative relationship.
In March 2007 a partnership agreement between APU and the University of Botswana was concluded and the two universities are cooperating in the fields of tourism, e-governance and health management, and are mutually accepting exchange students.