On Wednesday October 8, Royal Netherlands Consulate-General in Osaka-Kobe, Mr. Dirk Jan KOP visited APU and gave a lecture.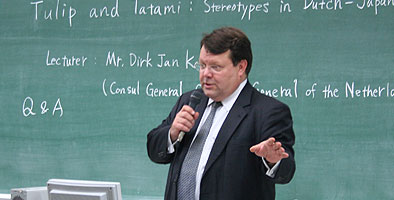 Students interested in Dutch-Japanese relations attended the lecture entitled "Tulips and Tatami: Stereotypes in Dutch-Japanese Relations" and were seen listening attentively. During the lecture, Mr. KOP talked about the Dutch-Japanese relations from generations ago. "Holland and Japan have had relations for over 400 years. Holland was the only western country permitted to have contact with Japan during the Edo Period when Japan closed itself off to outside influence. The reasons were because the Japanese were interested in Dutch technology and because the Dutch were only interested in trade –they weren't here to promote Christianity" Afterwards he answered questions from the students regarding the future of Dutch-Japanese relations.
Mr. KOP came to Oita Prefecture to attend the "The Netherland Crown Prince Cup Keirin" held at the Beppu Keirin velodrome on the same day. He took time out of his busy official duties to come to APU and enjoyed a friendly talk with Vice President YAKUSHIJI Kimio and Vice President Malcolm COOPER before his lecture.