On Saturday October 25 and Sunday 26, the DAYS JAPAN Photo Exhibition Executive Committee sponsored "DAYS JAPAN Photo Exhibition 'Walking around the World' 2007-2008" was held at the APU Convention Hall.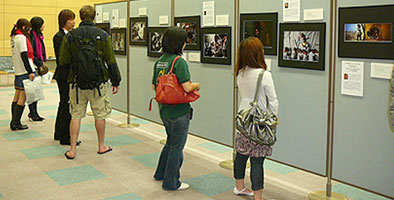 Approximately 40 photos which received the monthly Magazine DAYS JAPAN annual "DAYS JAPAN International Photojournalism Award" were on display and many students and members of the public came long.
The photo exhibition was held under the themes of anti-war, peace, non-nuclear, environmental issues, and the sanctity of life. Among the many news photos on display were Adrees Latif's photo taken of NAGAI Kenji, a Japanese journalist who lost his life while working in Myanmar, at the very moment he was shot and Brent Stirton's photo entitled "Mountain Gorillas Killed in Democratic Republic of Congo" of gorillas killed for food.
There were people who appeared clearly taken aback by the message to society embedded in the photos taken by internationally renowned photojournalists who had risked their lives to take them.