On Sunday October 26, 2008, the "26th Morinomiyako Japan Intercollegiate Women's Ekiden Championship" was held in Sendai, Miyagi Prefecture. The APU Women's Athletics Team appeared for the 8th straight year and placed 14th.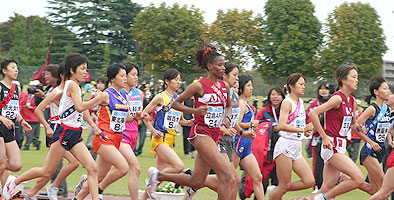 26 selected teams from around Japan competed under a cloudy sky in good running conditions for a relay and fast times were expected. MWANGI Mary Wachuka (APS4, Kenya),TOBA Ayumi (APS3, Japan),WANJOHI Mary Wangari (APS4, Kenya),OKI Misato (APS2, Japan),TSUCHITORI Chiaki (APS1, Japan),NJUNGE Catherine (APS1, Kenya) made up the 6 participants from APU and put in a good effort.
The APU runners held places in the middle of the pack from start to finish in a race which proved to be a tough event. They all ran well and were able to better their pervious year's time by approximately 3 minutes. The current record holder of the Japan Student 5000m record, Ms. WANJOHIT, who made her last appearance at the event, ran the longest stage at 9.1kms as the 3rd runner, delivered a good performance to overtake 5 runners and placed 3rd in her stage.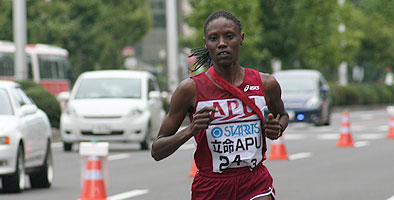 On the day the campus festival 'Tenkusai' was held people watched the race on a screen set up in the cafeteria. At the race track, many students and members of the public came along and cheered.
Ritsumeikan University continued their winning streak to record their 3 straight win and their 5th in total with a time of 2:06:53.
Thank you all for your support. We ask for your continued support.
Please click
here
for more details on the results (Japanese only)